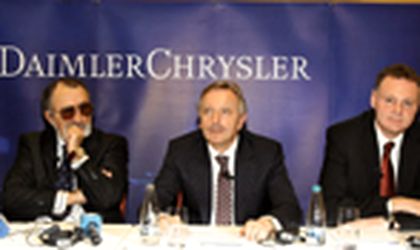 DaimlerChrysler has entered the local market through a joint venture with TiriacAuto Group. This multinational controls 51 percent of the shares.
The company aims to increase sales by 25 percent in 2007 for their brands, up to 6,000 units from about 4,800 in 2006. The increase will be supported by the release of 11 new models in Romania this year, said Michael Grewe, president and CEO of the local firm.
The new group is called DaimlerChrysler Automotive Romania and has already made job offers to about 130 employees of Auto Rom, the importer of DaimlerChrysler cars in Romania until now. The local company will manage the imports, marketing and sales business brands on the Romanian market such as Mercedes-Benz, Smart, Chrysler, Jeep, Dodge and Fuso.
Upon entering on the local market, DaimlerChrysler Automotive Romania announced the launch of a new maintenance service in Romania for Mercedes-Benz and Maybach. The service, which has been functional for a few years in other countries, provides mobile maintenance free of charge for these types of cars and a replacement car while repairs are being made. Transportation to the maintenance unit is also free of charge.
Company officials said that they studied the local market for a long time and that the decision to enter the market with its own office was made a year and a half ago.
DaimlerChrysler is not interested in further investments on the local market as the group's is supplied by its factories in Germany and the US said Joachim Schmidt, president of the Central and Eastern Europe, Middle East, Africa and Asia divisions of DaimlerChrysler, said.
Roxana Mihul