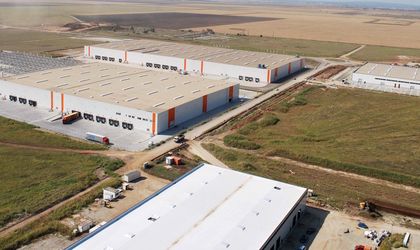 Investors who remain confident in Romanian profitability but who have been hit hard by the crisis are scrapping it out to get their hands on the remaining state aid, as by the end of 2013 the existing schemes will shut up shop. BR finds out more.
Andreea Ceasar
"The Romanian state aid that both of our newest investments recceived played an essential role in selecting the two locations in Romania. Without this support, Bosch would not have decided to invest in Romania," says Brigitte Elba, Robert Bosch's general manager, of the company's EUR 120 million investment plan in Cluj and Blaj.
Following these investments, the production unit in Blaj will be expanded by more than 21,000 sqm, absorbing an investment of EUR 43 million, while a new production facility will be opened in Cluj, requiring the other EUR 77 million. Both projects will create approximately 450 new jobs. The company was approved for state aid of EUR 13.4 million for its Blaj investment and another EUR 25.9 million for the new Cluj factory.
The view of Bosch is shared by many other investors which at the moment – when the markets are suffering from the third financial blockage in the last two years – cannot and would not invest large amount of money in an Eastern European country unless the local authorities offer some financial benefits.
"During this period, when everything has stopped because of Greece, Spain and Italy's financial situations, the only players that will continue their investment plans are the ones that are already present on the local market and know how it works and its potential. Moreover, the majority of investors aim to benefit from state aid schemes such as Government Decision (GD) 1680/2008 which can reimburse up to 50 percent of all an investment's eligible costs if the investment is larger than EUR 5 million and creates more than 50 jobs," says Nicolae Popa, business development director of the French subsidiary GSE in Romania, a turnkey contractor that this year obtained two major contracts: a factory of 10,000 sqm in Timisoara for the automotive supplier MGI Coutier, and a 28,000-sqm plant and office space in Oradea for the American telecom and electronic equipment manufacturer Plexus.
The rising interest in this type of scheme can be seen by analyzing official figures. According to the Ministry of Public Finance (MPF), through the two main state aid schemes (conceived to encourage large investments under GD 1680/2008 and GD 753/2008) 24 financing agreements have been signed for investments of over EUR 1.1 billion in domains such as car and automotive components manufacturing, research and development for the automotive sector, production of components for irrigation, production of components for the aircraft industry, energy production, tourism and healthcare. State aid of EUR 296 million made possible the creation of over 6,300 jobs.
The number of requests for these types of schemes has increased considerably from 2010 to 2012. While in 2010 there were only 24 requests for GD 1680/2008, from which just two beneficiaries obtained it, the next year the number of requests doubled to 51 and approved state aid of EUR 80.1 million reached 11 beneficiaries. By the end of this May approximately the same number of companies that had applied throughout the whole of 2010 had been recorded and more than one third had obtained aid of EUR 86 million. Of all 21 investments that received grants, more than half are in the western part of the country, while the rest are near Bucharest or Prahova.
"This is the first time when we have applied for state aid in Romania and we were pleasantly surprised to see the involvement of the Ministry of Public Finance in helping us make the application. The scheme GD 1680/2008 is very good and clear in terms of rules, in comparison with other countries where the less advantageous option of tax exemptions is preferred," says Elba.
According to Alin Buftea, partner and head of DLA Piper's Romanian real estate practice, in Slovakia the main aid forms applied are: subsidies for acquiring goods, income tax exemptions, transfers of ownership of a property below market price, and state contributions to creating new jobs. In the Czech
Republic it runs from tax reductions to financial support, while in Poland state aid is provided in the form of grants for investments and property tax exemptions.
"In Romania, specific individual allocations are granted only after the companies selected for state aid have made some of the eligible expenses for the investment. This measure is a guarantee that the approved investment will take place and is a measure to protect the Romanian state against situations in which sums of money are delivered and then, for various reasons, the investment is halted," says Buftea. However, the investor may ask for part of the sum allotted by the scheme. In this way, the investor will have to support only some of the eligible costs of the project until it is finished, as these costs will be covered by payments from the state, as performing investments.
"For investors it is very interesting to invest in this way, reducing the costs of investment by approximately 50 percent, as there are very few players that can and will bring all the money. But unfortunately the relationship between banks and investors is tough, and there are investors that even though they have obtained state aid cannot start the project as they cannot come with their part of financing," admits Popa.
"The state aid percentage is determined by reference to the eligible costs. Although the percentage may go up to 50 percent, in reality the investment costs are generally higher than the eligible costs, which means that the 50 percent would be substantially diminished by reference to the actual cost of the entire investment," cautions Buftea.
Currently the MFP is analyzing 14 investment projects in different sectors that have sought aid: industry (production of plastics, automotive, manufacturing high and low voltage cables, manufacturing of rolling stock, machine oil), tourism and healthcare.
The value of these projects would be EUR 364.4 million, and the requested aid is EUR 141.1 million. If they are accepted and secure banking support, there could be a warm breeze over the frozen markets.