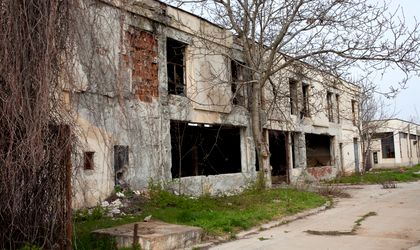 Legal uncertainties and costly clean-up procedures have so far prevented a boom in brownfield redevelopments in Romania by discouraging investors, who continue to prefer greenfield projects. However, the situation could well change in the not too distant future and investors' interest in the abundance of local derelict industrial sites will pick up, should the authorities address related issues, pundits told BR.
 Simona Bazavan
Romania's rapid industrialization before 1989 and the subsequent shut-down of many of its industrial facilities left behind a great number of derelict contaminated properties after the Revolution. Many of them are located within city limits, making them a hazard to the environment and public safety, but also an excellent investment opportunity for brownfield developments.
According to the US definition, the term "brownfield site" means real property, the expansion, redevelopment or reuse of which may be complicated by the presence or potential presence of a hazardous substance, pollutant or contaminant. In Europe, however, there is a lack of a common definition, Perry Zizzi, partner at Clifford Chance Badea, told BR.
"In general, the Romanian legal framework used for dealing with brownfields is the general 'contaminated site' regime, although it does not really cover the particular complexities of brownfield redevelopment," he said.
Legal uncertainties and costly clean-up procedures have so far prevented a boom in this sector. "I would not say there is particular interest in such sites, and that is the problem. We need to encourage brownfield redevelopments in order both to preserve undeveloped sites and thereby reduce urban sprawl, and to clean up sites that could damage the public's health and blight our communities," he added.
Randy Tharp, managing director of Epstein Architecture & Engineering, agrees that there is not much interest in brownfield developments in Romania, mainly due to vague and sometimes even contradictory laws. Further disincentives are the lack of financing sources and governmental incentives at both state and local level, the overall economic conditions and lack of know-how in dealing with the assessment, monitoring and clean-up of contaminated brownfield sites containing hazardous materials. Furthermore, the authorities are just beginning to put together a national inventory of these properties. Should these issues be addressed, the investors' interest will duly pick up.
"While we have not seen much increase in activity in this area in Romania, in the past we have seen increased demand once regulations and often incentives were put in place in other cities. Models for brownfield development, including the role of local and national governments, are plentiful in Western Europe and the US, where brownfield redevelopment has become more common and desirable for developers," said Tharp. In his opinion, urban brownfield sites can often be very attractive to developers and investors. Their location, access to existing infrastructure/transportation and utilities, and sometimes lower land prices are the main advantages. And while the higher costs of cleaning up such sites can make greenfield developments more cost effective, this isn't necessarily a rule.
"With incentive programs such as expedited permitting, low- or no-cost land purchase, and/or clean-up assistance grants, the total cost to a developer can often be even less than it would be for a greenfield development," Tharp said.
However, demand is low not only for contaminated industrial sites. "Lately there has been demand for industrial land/buildings, but only on the retail segment and only for very well positioned properties. Their main advantages are proximity to crowded urban areas, access to boulevards with heavy traffic and clear legal status – or one that can be cleared up," Cristian Raducea, retail consultant with DTZ Echinox, told BR.
How many brownfield sites are there, anyway?
So far, the state has done little or nothing to encourage brownfield initiatives, although there are plenty of such properties countrywide. How many, exactly, is very difficult to say even for the authorities. The contamination degree of these sites is another unknown in the equation.
"We have to recognize that at this moment we don't have a concrete overview of all the contamination in Romania. We have identified the problem and of course we are trying to remedy it," said Ionut Georgescu, head of the department of waste management and hazardous substances at the Ministry of Environment, during the Brownfield Redevelopment in Romania seminar organized by the US Embassy earlier this month. According to data available so far there are some 900,000 hectares of contaminated land in the country, 75 percent of which is farmland.
According to Georgescu, however, in three years' time Romania should have a national database with all the brownfield sites on its territory, as the ministry is currently undergoing a tender as part of a EUR 30 million project for the historical investigation and assessment of contaminated sites. "Our aim is to have a D-Day for our data. We want to understand the current situation in the field, who has been responsible over time for the pollution and also to protect the state budget from remediation requests for historical contamination," he said.
In his opinion, the government will have to spend between EUR 5 billion and EUR 20 billion over the next 20 to 25 years in order to fulfill Romania's obligations regarding land quality and site remediation.
Daniel Anghel, partner for indirect taxes at PwC, reckons that over the next 30 years the government must find an estimated EUR 14 billion from different financing sources in order to restore the estimated existing 547,083 properties countrywide.
Investors browned off with legal framework
The costs of cleaning up contaminated derelict sites can be burdensome and in many cases are hard to estimate from the beginning due to the lack of information about the properties. Furthermore, there are contradictions over the financial liability, said Zizzi.
While GD1403/2007 stipulates that clean-up costs are to be borne by the entity that generated the pollution, GD1408/2007 specifies that the current holder of the plot of land in question is responsible financially for both historical and current pollution.
Moreover, under GD1403/2007, plots of land neighboring the contaminated site which have been affected by the pollution are also the financial responsibility of the entity that generated the pollution on the original site, he added.
Looking at environmental liability, GEO no. 68/2007 sets forth the general principle that the "polluter pays" but is unclear about the situations when the polluter can't be identified. Also, the exact extent of the liability is further clouded by uncertainty, because of the unknown degree of contamination, in the absence of a contamination assessment studies database, the lawyer noted.
And the confusion doesn't stop here. While land owners cleaning up polluted plots are exempt from paying land tax on the site being treated for the duration of the clean-up period, according to the Romanian Fiscal Code, the law is once again unclear about how the plot of land being cleaned or how the clean-up duration is determined. "Furthermore, this exemption alone is not sufficient to offset the clean-up costs and efforts required by the cleanup procedure," he added.
Central and local administrations have done a sloppy job applying for EU funds from the Sector Operational Program (SOP) Environment, with an absorption rate of only about 3.4 percent to date out of EUR 4.5 billion for the 2007-2013 period. Out of this entire sum, EUR 1.2 billion was available until 2011 for the development of integrated management systems for the waste and restoration of historically polluted sites, but the absorption rate is only 8.32 percent, according to official data. The situation is similar in the case of the European and government funding schemes targeted at public authorities.
But cleaning up brownfield sites should not be the government's job alone, thinks Zizzi. Offering creative financial tools and partnerships as well as the right tax incentives to the private sector to persuade it to step in and do the cleaning could prove a better solution in the case of many sites that hold potential economic value.
Tax abatement and accelerated depreciation are the most attractive incentives for developers and the government should understand this by looking at the bigger picture and not only at short-term tax collection targets, urged Zizzi.
Such tax incentives could be VAT exemption for goods and services needed for decontamination, deduction for profit tax purposes of the cost of decontamination, profit tax exemption, reduced local taxes or the VAT reverse charge mechanism, suggested Anghel.
Other incentives include fast-track permitting and limitations on environmental liability. "Elsewhere, state aid in the form of grants and low-interest loans can be attractive. However, given the challenges inherent in accessing such funds here, I don't think those should be a priority. My sense is that brownfield redevelopment can work most efficiently in Romania if it is led by the private sector with adequate policy support from the state," concluded Zizzi.
The authorities say they want to remedy the situation and for the 2014-2020 financial allocation for SOP environment to make more funds available for private companies and not only public authorities, as has been the case so far for certain clean-up projects. Meanwhile, a first draft of the government's National Contaminated Sites Management Strategy, which has been prepared by the National Environmental Protection Agency but not yet by the government, promises to bring some clarity to the legal framework concerning contaminated sites.
The draft includes definitions of the historically contaminated area concept and that of a potentially historically contaminated area. It also makes recommendations on financial liability in connection with investigation and remediation of contamination and stipulates fines for holders of potentially contaminated plots of land that don't report relevant data about their site to the Environmental Protection Agency.