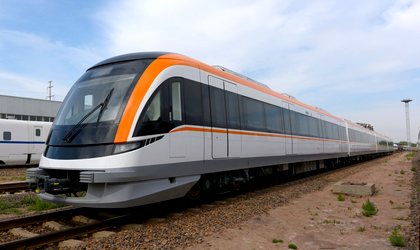 With a sales figure of over USD 5 billion in 2018 and more than 32,000 rail vehicles sold worldwide, the Chinese at CRRC Sifang want to capture the Romanian market as well.
CRRC Sifang, the core subsidiary of CRRC Corporation, the largest supplier of rail transit vehicles in China, joins hands with Astra Vagoane Calatori, a renowned Romanian car-builder, to attend the bidding for a tram project issued by the Bucharest municipality.
CRRC Sifang achieves a good reputation as a company focusing on the design, engineering and manufacturing of advanced passenger railway vehicles. With USD 5.4 billion annual sales revenue of, over 1.77 million square meters factory area, CRRC Sifang establishes seven product platforms, covering high-speed train, intercity and regional train, metro vehicle, passenger coach, tram, DMU and monorail vehicle, with speed ranging from 50km/h to 380 km/h. By the end of 2017, CRRC Sifang had produced over 32,700 railway vehicles.
CRRC Sifang significantly highlights technical innovation and R&D. With sufficient number of engineers, comprehensive technological platforms and facilities, and an annual R&D budget of approximately USD 300 million, it is an important strategy of CRRC Sifang to apply new technologies to rolling stocks. CRRC Sifang's facilities in Qingdao are also the home to China's National Engineering Technology Research Center, the National Engineering Laboratory for System Integration of High-Speed Trains, the National Engineering Research Center for High-Speed EMUs, the Post-Doctoral Scientific Research Program, and the Metrology and Inspection Center certified by CNAS and ILAC.
CRRC Sifang honors a glorious legacy of making records since its founding in 1900. The first steam locomotive, the first diesel-hydraulic locomotive, the first AC transmission diesel locomotive, the first DMU, the first high-plateau passenger coach, the first 200 km/h train, 300 km/h and 380 km/h EMU, the first "Fuxing" EMU and the first high speed train of China were all born in CRRC Sifang. Its honorable history of designing and manufacturing rolling stocks dates back to 1950s.
Over the years, CRRC Sifang has exported its products to over 20 countries and regions around the world, with number of exported vehicles exceeding 5,000. CRRC Sifang enjoys a great reputation in the whole world thanks to its dedication to the projects, especially its projects with Singapore LTA, Hong Kong MTR and Chicago CTA. In 2014, CRRC Sifang won driverless metro car contract of 364 vehicles from Singapore. In 2015, CRRC Sifang won metro car contract of 744 vehicles, the largest metro vehicle order awarded by Mass Transit Railway in Hong Kong. In 2016, CRRC Sifang won metro car contract of 846 vehicles, the largest metro vehicle order awarded by Chicago Transit Authority in the US.  
CRRC Sifang features abundant experience in designing products according to EN standards. In addition, it establishes a joint venture in Germany, a strong academic relation with UK and German Universities, and the long standing cooperation with European industrial designers.
CRRC Sifang is looking forward to providing safe, reliable, green, and environmental-protection products for Romanian. It is expected to decrease the utilization costs of products and create more values for customer by means of full life cycle service.