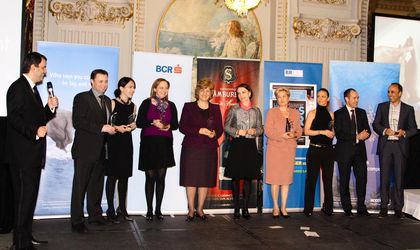 Business Review has celebrated the best business practices of 2010 at a gala event which brought top figures from the business community to the Athenee Palace Hilton hotel.
Staff
During these times of economic turmoil, both nationally and internationally, Business Review last week honored the best business people and strategies of last year at its sixth annual gala awards. The jury selected nine winners from 46 nominees across nine categories: clean business, online project of the year, effective marketing, customer focus strategy, entrepreneur of the year, sustainable business practices, business leader of the year, deal of the year and excellence in business.
Steven van Groningen, Raiffeisen Bank president and president of the Business Review jury, commented that the competition was much tighter than on previous occasions.
"We had a very good list of nominees this year, and the jury results were much closer than last year, which showed the fierce competition between the nominees. The jury discussed and reviewed the criteria for each category, and the extent to which nominees met these criteria was evaluated by each member," said van Groningen.
This year's Business Review Annual Investments award jury was made up of van Groningen, Raiffeisen Bank; Serban Toader, senior partner and head of advisory of KPMG Romania; Jean Valvis, CEO of Valvis Holding; Doru Lionachescu, chairman at Capital Partners; Linda Griffin, general manager at Athenee Palace Hilton; Eliza Rogalski, CEO of Tempo Creative Group; Robert Maxim, managing partner at Ensight Management Consulting; and Daniel Anghel, partner, indirect taxes, PwC.