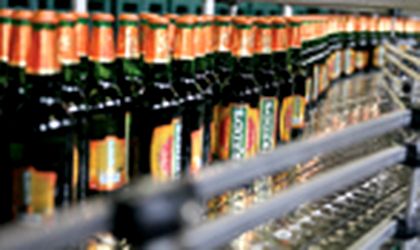 "The market has clearly slowed. I think it will be flat this year," says Stephan Maria Weber, president of Ursus Breweries. He adds that brewers' performances depend on the weather, which so far has disappointed. Weber says he is being stoical – practicing when the weather is rough to prepare for the storm. "We had growth rates in the high double digits last year but that is the exception, not the rule. It will be a tougher year," he says. "We continue to invest because we believe in this market. We did not cut investments this year, unlike many others. I hope in a year's time I can tell you that all the sales are still up and we didn't lose a mast in the storm."
Weather, promotions, events and communications will be the main factors that will influence beer sales this year, according to Inbev representatives. In 2008, the Romanian beer market rose 5 percent, the most dynamic segment being international super premium, which is due mainly to an increase in consumer demand and expectations, according to an AC Nielsen study. Broken down by segment, super premium reached a 9.3 percent market share, premium 11.7, mainstream 36.2, economy 40.3 and non-alcoholic beer 2.5. "It is likely that in the current economic context some consumers will buy cheaper beer. But we must not lose sight of the fact that many remain faithful to a brand or segment," Marius Melesteu, Heineken Romania commercial manager, tells RB.
Just last week, Ursus Breweries announced it had finished investments of EUR 42 million in increasing production capacity in its Buzau plant by 50 percent. The brewer expanded and modernized its production facilities and set up new equipment that allows it to produce new brands such as Redd's and Ursus Alcohol-free. Initial production capacity of 1,900,000 hl rose to over 2,500,000 hl. The entire production capacity of Ursus Breweries, excluding the recently acquired Azuga brand, is now 7.3 million hl. The works lasted for a year. "We can actually talk about a newly created plant. We developed a parallel production flux to the existing one. We replaced more than half of the equipment too," says Sorin Harabagiu, manager of the Buzau plant. The firm has also employed 20 people since January and is looking at employing another 23. "We have at the moment 400 employees, most of them from Buzau," he says.
Ursus Breweries, with a portfolio that includes Peroni Nastro Azzuro, Ursus, Redd's, Timisoreana, Stejar, Ciucas and Pilsner Urquell, has four production units (in Cluj, Timisoara, Buzau and Brasov) and over 1,500 employees. Last year, it expanded brewing capacities in Timisoara and invested in water treatment plants. "We renovated Timisoara as a location and it is now one of our nicest breweries. In Cluj we made some small investments in technology and in giving the brewery the look it should have since Cluj is the pumping heart of our Ursus Breweries and we wanted to make that fact crystal clear," says Weber.
Ursus Breweries recently acquired part of Azuga. "We haven't completely finalized the acquisition of the Azuga share package. How we move forward, specifically on the production side, is still unclear. We started the acquisition process in February and are still waiting for written Competition Council approval," says Weber. The firm has finished its investments for year.
InBev Romania has over 730 employees and two production units in Bucharest and Blaj. Its best sold brand is Bergenbier, on the mainstream segment, which contributes over half its sales. Then come Noroc and Beck's. InBev also produces Stella Artois and Lowenbrau on the value segment and imports Belgian brands Leffe and Hoegaarden. The local beer market is "consolidated, mature and competitive", say reps, in third place in size and importance in CEE for Anheuser-Busch InBev. InBev Romania's market share for 2008 was 19.2 percent, according to the Annual Report 2008 on www.ab-inbev.com.
Heineken Romania, with a portfolio including Heineken, Ciuc Premium, Golden Brau, Neumarkt, Bucegi, Edelweiss and Zipfer (both imported), Gosser, Schlossgold, Silva, Gambrinus, Harghita and Hategana, posted a 20 percent growth in last year's turnover to a gross value of RON 960 million (RON 829 million net). The engine of growth was the Heineken brand, whose sales were up 26 percent on 2007. Last year, Heineken Romania reached a market share of 29 percent, according to AC Nielsen 2008. Heineken Romania has five production units in Constanta, Craiova, Hateg, Miercurea Ciuc and Targu Mures, and about 1,500 employees in total.
"We will continue to invest in our brands in 2009. This year we have already launched a new brand of beer, Edelweiss, which marks the company's entry on the segment of unfiltered white beers," says Melesteu. The company has started image campaigns for Golden Brau and Bucegi, while continuing the one underway for the Heineken brand, adds the manager.
By Otilia Haraga