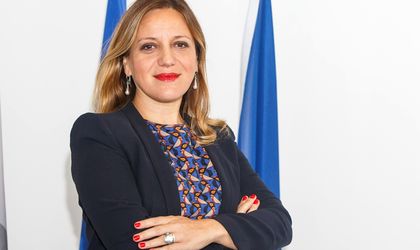 The European Investment Bank Group has been present in Romania since the early 1990s, backing investment projects in both the public and private sectors. BR spoke to Lara Tassan Zanin, the Head of EIB Group's Bucharest Representation, about the EU Bank's operations in Romania and how it can help the country turn investments into the main driver of its economic growth.
What are the EIB Group's main activities in Romania and how have they evolved over the years? 
In Romania and other EU countries, the EIB supports investment projects that reduce disparities in regional development, strengthen economic competitiveness and improve living standards. In 2014–2018, the Bank provided EUR 4.1 billion to projects in Romania. EIB's lending commitment in Romania since the start of operations here amounts to EUR 14.6 billion. The EU Bank will remain Romania's predominant, reliable financing partner. 
The EIB also provides technical assistance, with some 40 experts located in Bucharest, the group's largest office, to support Romanian authorities in preparing and implementing projects in view of speeding up the absorption of EU funds, reforming public procurement in order to create value for taxpayers through savings in centralized purchases. The impact of these projects should ultimately be felt across Romania through improved water supply, better transport linkages, modern rolling stock, and greater resilience to natural disasters. The European Investment Fund is part of the EIB Group. Its central mission is to support micro, small and medium-sized businesses by helping them access finance. The EIF designs and develops venture and growth capital and guarantees microfinance instruments targeting this segment. In this role, the EIF fosters EU objectives in support of innovation, research and development, entrepreneurship, growth, and employment. In 2018 alone, the EIB Group delivered EUR 1.3 billion to Romania and the support in 2019 is expected to be of a similar magnitude.
Which sectors is the EIB Group primarily interested in financing in Romania?
The EIB model will continue to focus on lending, blending EU and EIB resources, and advising. The Bank is present in all major sectors of the Romanian economy: transport, energy, environment, SMEs, manufacturing. In the lending area, we are actively cooperating with the government and other public authorities, banks and corporates. We are looking to further develop our operations: in the public sector we'll focus on priority infrastructure through co-financing with EU grants, particularly in transport, agriculture, health, and education.  Our priorities include supporting projects benefitting from guarantees provided by the European Fund for Strategic Investments (EFSI) which forms part of the Investment Plan for Europe (Juncker Plan) in energy, innovative and resource-efficient manufacturing, innovation, municipal infrastructure and telecommunications. Our main EFSI counterparts are corporates, municipalities and utilities. As examples, we can mention the BRUA gas pipeline project promoted by Transgaz and the Arcelik innovative production plant opened recently in South-Muntenia. In cooperation with banks, we will continue supporting SMEs and mid-caps. The minimum loan amount for direct financing is EUR 12.5 million and we finance up to 50 percent. Smaller amounts, including finance to SMEs and mid-caps, is intermediated by commercial banks. 
Why do Romanian companies still have a hard time securing investments and what role does the EIB Group play in improving this situation?
Indeed, Romania has one of the lowest shares of firms investing in the EU, despite the strong growth in recent years and the persistent need to upgrade the capital stock. There are a number of obstacles which hamper corporate investment and increase investment gaps, including high uncertainty, regulation and a limited availability of skills. A weak balance sheet structure (high leverage, low equity base) is also a factor that limits access to bank credit for many firms and makes investments more difficult. 
However, some of the firms struggling to access finance are innovative and growing strongly. Here, the EIB Group supports Private Equity funds to invest in startups and tech growth companies. The EIB Group provides commercial banks in Romania with a package of guarantee portfolio instruments and competitive loans to reduce collateral requirements and interest rates to make finance more accessible. On the limited availability of skills, the EIB supports Romanian universities to refurbish or build new labs, research facilities, better campuses and implement digitalization.
What is the SME initiative and what types of companies does it target? Are startups also included in the initiative?
The SME Initiative in Romania, a joint initiative of the EIB Group and the European Commission, has significantly contributed to sustainable growth and employment by facilitating credit at attractive terms. The initiative is deployed in collaboration with Romanian authorities responsible for EU structural funds. After a first successful tranche of EUR 100 million, a EUR 150 million top-up has just been agreed and will bring the overall funding to support Romanian SMEs to EUR 1.4 billion.
How does the Group promote gender equality in Romania's business community?
The EIB lent EUR 22.3 million to Garanti Bank Romania in 2018 – under the EFSI guarantee – to support businesses in Romania. EUR 5 million of the loan amount is devoted to female entrepreneurs, matched by another EUR 5 million from Garanti. This innovative loan will give female entrepreneurs representing SMEs and mid-caps access to more favourable financing. To access these loans, companies have to be more than 50 percent owned by one or more women or have 26 to 50 percent of shares be owned by one or more women, with a woman acting as the chief executive, operating or financial officer. On October 16, an ad-hoc workshop is organized by the EIB with PE funds, business angels, and successful female entrepreneurs to discuss challenges faced by women in accessing finance in Romania. Discussion is around barriers faced by female entrepreneurs and what can be done to overcome them. On the one hand, there are several day-to-day obstacles adding to women's difficulties in setting up and growing a business. The average woman entrepreneur is married, has children and is more likely than men to have family obligations, so she often faces time and mobility constraints. To ease them, more structural improvements are needed, such as improving the availability and affordability of childcare, connectivity, etc. On the other hand, part of gender inequalities in entrepreneurship pertain to access to credit, finance and capital. The EIB will try to promote among commercial banks similar credit lines to the one implemented with Garanti and facilitate the networking of relevant stakeholders to make the local market aware of these challenges. The limited availability of skilled and unskilled workers is hampering investments. Romania cannot afford to leave women out of the market.
What is the mechanism through which Romanian farmers and agriculture-related businesses can access EIB funds?
An EIB loan of EUR 450 million to finance Romania's contribution to the implementation of the Rural Development Programme together with grants from the European Agricultural Fund for Rural Development in 2014-2020. The loan co-finances rural development projects supported by EU funds totalling EUR 5.4 billion across Romania, as well as the modernisation of 3,000 farms, and co-finances 400 projects for the processing and marketing of agricultural products and 750 schemes to improve services for the rural population. The EIB product is available in five commercial banks that will support farmers to fill in the application forms for their projects and get approval for the corresponding co-financing in a loan at very attractive terms, thanks to the package the EIB Group provides to banks.
What are EIB Group's plans in Romania for the coming years? 
We are aware that Romania's economic growth is funded by private consumption that benefits from the reduction of taxes. We hope and expect the main economic drivers in the future to be investments – a more sustainable way to ensure robust growth – together with sensible economic decisions and structural reforms. This could make Romania more attractive to foreign direct investments. The EIB Group will continue to support growth and human capital investments in Romania. In the future we will be focusing on: the public sector, with direct and EU funds co-financing public infrastructure, energy efficiency, education, urban infrastructure, health; the banking sector, with RON denominated lending, EFSI-backed funding, supporting innovation and employment for SMEs and mid-caps, and further developing the SME Initiative; the corporate sector, with continued efforts to deploy the EFSI supporting innovation and climate change and project finance in sectors like health, transport, and energy. 
Through our JASPERS and PASSA experts, we will continue delivering Advisory Services to support the preparation and implementation of major infrastructure projects, capacity building (solid waste sector, public procurement), and the development of public investment and governance institutions (PPP, National Promotional Bank).