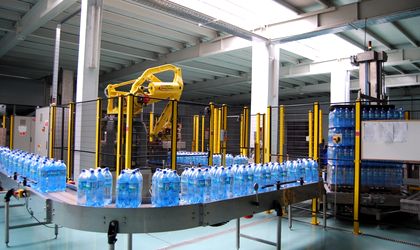 The hotter the weather in summer, the higher the sales for local mineral water bottlers – and the hike couldn't be more refreshing. In 2010 consumption dropped for the second consecutive year and 2011 will most likely put a further dampener on hopes for growth, as it is predicted to bring only stabilization on a market estimated at around EUR 300 million.
Simona Bazavan
"All we need is a hot summer like the one in 2007, and we won't have any problems," said Nicolae Palfi, vice-president of Romaqua Group, the largest mineral water bottler in Romania, earlier this year.
Scorching summer days mean good business for water bottlers. According to data from Nielsen Romania, sales volumes hiked by 25 percent last year between June and September against the February-May period and later dropped by 23 percent from October to January of the next year.
"Comparing the cold and the warm season, we estimate that like last year, sales will go up by 10-20 percent, depending on the temperatures reached in the summer months," Camelia Hoinarescu, marketing director at Rio-Bucovina, one of the top five players on the market, told BR.
There were around 55 Romanian bottled mineral water brands at the beginning of the year according to Adrian Feru, R&D director with the National Company for Mineral Waters (SNAM). Not all have felt the strains of the economic recession, he argues. Well established names on the market were the least affected and some bottlers even managed to consolidate their business. The top five Romanian bottled mineral water players include Romaqua Group, Coca Cola HBC, European Drinks and Rio-Bucovina, says Nielsen. The market is dominated by local players and the top five brands make up about 43 percent of the total. Bottled water is also a source of income for the state budget. Under Romanian law, all mineral water sources are owned and operated by the state. SNAM owns approximately 80 percent of the total volume of water delivered to local bottling companies, which pay RON 31 (about EUR 7.3) for 1,000 liters of mineral water. In addition to this, companies also have to pay EUR 4 for 1,000 liters in royalties. Last year, SNAM generated EUR 12 million for the state budget. Romania has over 8,500 mineral water springs, accounting for 45 percent of European mineral water reserves.
Citing data from SNAM, Hoinarescu says bottled water has registered an upward trend in Romania since 2005. Last year, however, marked the second consecutive year of falling consumption. "There are two factors that have clearly affected the market – the economic crisis and the lack of a very hot summer," said Hoinarescu. She added that she expects the numbers to stabilize and begin to grow in the next period as consumers become more educated and understand the benefits of bottled water.
While in 2008 Romanians drank 1,042 million hectoliters of bottled water, in 2009 consumption dropped to 1,000 million hectoliters, and a year later fell again to 920 million hectoliters. Per capita consumption followed the same trend, sinking to 47.6 liters in 2009 and then to 43.8 last year. The European average is said to be about 150 liters per year. Against the economic context, Rio-Bucovina has managed to boost its turnover in the past two years, the marketing director said. In the fiscal year 2010 it reached RON 85 million (about EUR 20.7 million), 4 percent up on the previous year. Profitability reached 14 percent after hitting break-even in 2009.
So far 2011 has brought positive results for the bottler, which in the first semester saw sales hike by 40 percent against the same period of last year, and expects its turnover to climb by 29 percent to about EUR 26 million by the end of the year. The company also produces Rio soft drinks and distributes food and non-food products.
"Since 2009, as with many other categories, bottled mineral water has also been affected by the economic context. The market continued to drop in 2010 but the decrease was insignificant. We estimate that it will continue to go down this year too," Dana Ichim, manager responsible for Dorna, Dorna Izvorul Alb and Poiana Negri within Coca-Cola Romania company, told BR. As it is a basic product, consumer behavior hasn't changed significantly in the past couple of years, added Ichim. Without disclosing the actual sales for last year, she said the results were in line with the company's expectations. "Dorna makes a significant contribution to the company's results and for this reason we will continue to invest in this brand in the coming years," she concluded.Seven years after selling Dorna to Coca-Cola HBC, businessman Jean Valvis announced a greenfield investment in a new mineral water bottling plant in 2009. In November 2010 a brand was launched, Aqua Carpatica, positioned as a premium product.
Total investments amounted to EUR 12.5 million and the brand had a launch budget of EUR 1.5 million. A similar amount will be invested this year, Valvis told BR. Since the launch, sales have been going up, surpassing expectations by 10 percent and gaining a 3 percent market share so far, said the businessman. "Given the product's seasonality we foresee a higher market share by the end of the summer," he added.
"Our objectives are ambitious. Ever since the beginning we have built Aqua Carpatica as a premium brand and in the very near future we want to conquer international markets with this product which is Romania's first exclusivist export product. We mainly target luxury horeca locations in world capitals," said Valvis. In his opinion the local mineral water market has a lot of potential for further growth as consumption continues to be half the European average. Mineral water comes with a long tradition in Romania. Borsec, the best sold brand locally, celebrated its 205th anniversary this year. The brand is owned by Romaqua Group, which reported a EUR 142.5 million turnover for 2010.
Last year saw new players entering the market. United Romanian Breweries Bereprod Romania (URBB) launched the Bilbor brand. Others invested in opening new production units. Perla Covasnei has announced an investment of more than EUR 5 million in a greenfield facility in Catalina, Covasna county.