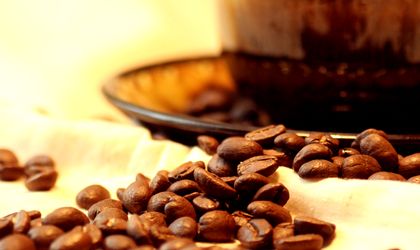 Coffee is one of the last products that consumers cross off their shopping lists when they start to tighten their belts but, even so, Romanians drank fewer cups of the stuff last year. With the overall downward FMCG trend, a surge in the international price of coffee and an unfavorable domestic fiscal regime, local players are expecting another year of small beans in 2011. In addition to percolating more promotions, they will have to brew up new ways to make the market wake up and smell the coffee.
Simona Bazavan
Romanians drink on average roughly 2.3 kg of coffee each year, with the figure decreasing in recent times. Nevertheless, coffee makes for a special case when it comes to the FMCG market. It is often regarded as nothing short of essential by many consumers, who are reluctant to cross it off their shopping lists.
This kept the decline in the local coffee market to only 3.7 percent in volume last year against 2009, Raluca Raschip, consumer tracking director at GfK Romania, told Business Review. However, there are considerable differences among varieties. "If we refer solely to ground coffee, the packaged segment remained constant while bulk coffee dropped by 15 percent in volume," she said, adding that instant coffee suffered the highest fall.
Competition between local coffee firms is fierce, with five players controlling over 80 percent of the market. Kraft, Strauss, Nestle, Cia Iguacu Brasil and Tchibo had an overall 84.2 local market share (by value) last year, according to Nielsen Romania. Focusing on brands, Jacobs, Doncafe, Nescafe, Amigo and Fortuna had a 77.3 percent share (also by value) in 2010, according to the same source.
Local companies also have to deal with a lively black market trade. "The Amaroy brand, which is the exponent of the black market, is the second biggest brand on the ground coffee segment. Although it can be found in some retail networks, its main distribution channels are traditional retail and the black market," said Raschip. In 2010 about 17 percent of Romanian households purchased this brand, the share having increased progressively over the past six years, she added.
Romanians mostly like to buy their coffee from hypermarkets. According to the ShopperTrends survey put together by Nielsen, last year 43 percent of shoppers used this channel (2 percent less than in 2009), 22 percent bought their coffee from supermarkets (-1 percent), 3 percent from cash&carry stores (-1 percent) 17 percent from discount stores (+2 percent), 9 percent from traditional groceries (+2 percent) and 3 percent from kiosks (the same as the year before).
Overall, brand loyalty declined last year for FMCG but coffee remains one of the products to which local consumers remain faithful. When their favorite brand is not available on the shelves, 46 percent of local buyers would purchase the same product but from a different store, eight percent would wait for it to become available, another eight percent would buy a different variety from the same producer and 38 percent would try another brand, according to the Nielsen's ShopperTrends 2011 survey.
The challenge for coffee firms this year will be to handle the increasing cost of green coffee. "The rise in the price of coffee, which has almost doubled since last year, the government's decision to maintain coffee duty excises (…) and the market's overall decline will be the main challenges this year," Doina Cavache, corporate affairs manager at Kraft Foods Romania, told Business Review. She added that so far, in the first quarter of 2011, the market continues to shrink, and hopes are that for the coming period the situation will at least stabilize.
At the end of last year the Finance Ministry announced plans to maintain coffee excises in 2011 at the same level as the previous year, although the Fiscal Code stipulated that from this year they would be removed. For a ton of green coffee beans the excises amount to EUR 153, for roasted coffee they reach EUR 225 per ton and for soluble coffee EUR 900 a ton.
Sugar price increases and last year's VAT hike have also taken their toll. "The price of coffee products has been influenced by a series of factors such as more expensive raw materials – coffee but sugar as well – and higher packaging costs. At the same time, the coffee excise duty and VAT increase to 24 percent are also felt in the product's final price," Ana Maria Doxan, business manager for beverages at Nestle Romania, told BR.
Despite the dip, coffee consumption has held up better than other FMCG categories, but consumer behavior is in flux. "We have noticed several changes in the consumption of various coffee varieties. Consumers are giving up the habit of drinking several coffee types during the same day – roasted and ground in the morning, soluble coffee at the office and various specialties in the afternoon – and are generally shifting towards the traditional coffees, roasted and ground," Cavache said.
This year she says that Kraft Foods, which owns the Jacobs and Nova Brasilia brands, will further invest in its portfolio. Promotions are in the cards this year also for Kraft. "Promotions are generally of great interest to consumers. The economic context of the past two years has brought about changes in consumer behavior and the decision to buy," Cavache added. Currently the company is running the "Because you give, you receive!" campaign (Pentru ca daruiesti, primesti!) which features promotional packages that include, alongside Jacobs coffee, Milka chocolate and a gift – a brooch, a scarf or a shopping bag. Company representatives will visit 30 cities handing out shopping vouchers to people who wear the accessories.
Promotional campaigns are also on Nestle's to-do list this year with the second run out of its "Anti-Boredom" campaign (Anti-Plictiseala). In 2011 the company also plans to invest in recently launched products such as Nescafe Green Blend and to focus on the coffee mix segment, with its Nescafe 2 in 1 and Nescafe 3 in 1 products. Overall, Doxan sees "growth on the instant coffee mix segment as this has seen a very dynamic evolution in the past years."
Consumer behavior changes over the past year have seen people staying in rather than spending money on going out. In line with this trend, Nestle also intends to invest in launching new models of the Nescafe Dolce Gusto machines and new coffee specialties.
Elsewhere, Strauss Romania, owner of the Doncafe brand, announced last October EUR 4.5 million investment in a new communication campaign. The firm said it expects a turnover of around EUR 60 million in 2010, similar to the results obtained in 2009. Strauss Romania, the local branch of the eponymous Israeli group, has been on the Romanian market for 15 years, initially with the Elita coffee brand, which was repositioned in 2008 as Doncafe.