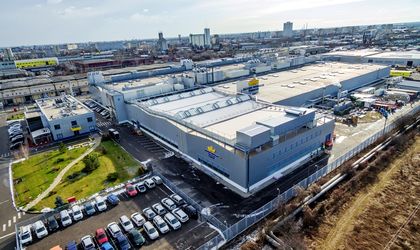 An investment of EUR 800 million started today in Ploiesti factory of British American Tobacco (BAT) the largest cigarette producer in Romania. The investment will be made over the next five years and half of it will go into a completely new manufacturing hall dedicated to producing Neostiks for glo. In total, an additional 7000 square meters of production space will be created.
The unit in Ploiesti will be the third in the world (after South Korea and Russia) to produce Neosticks for glo and the first in Europe. In fact, the factory is meant to cover all the Neosticks needed for the European market, since 85 percent of the production will be exported.
The rest of the money will be invested in increasing the capacity of "classic" cigarettes production by 20 percent.
"Currently, 60 percent of our Romanian-made products leave to 45 other countries and this number will grow to 70 percent following these investments," says Ram Addanki, South Central European Area director, British American Tobacco.
The British American Tobacco Factory in Ploiesti is one of the most technologically advanced manufacturing unit within the group at a global level, after an investment of almost EUR 310 million since the factory's establishment almost 20 years ago. With the new production outputs, the BAT factory in Ploiesti is set to become one of the five most important BAT manufacturing units in the world.
The foundation of the factory was laid in 1995 and in 1997 the production started. After more than 20 years, the company has around 2,500 employees (from which 800 in the factory) and for the last investment it will hire 200 more for Neostiks production and an additional 400 for marketing and sales. "We will have over 3,000 direct employees and more than 2,500 jobs that are indirectly supported by us", says Addanki.
BAT has a market share of 55 percent in Romania, and the best selling brand is Pall Mall, which covers around 20 percent of the market. The main competitors are Japan Trading International, with a market share around 25 percent and Philip Morris with 15 percent.
The biggest problem cigarette producers have in Romania is the illegal traffic and tax evasion but they hope that the traffic will be stopped after all customs point with Ukraine, the Republic of Moldova and Serbia will be sealed and all the vehicles crossing the border will be scanned with specialized machines, according to the Ministry of Finance Eurgen Teodorovici.
"We want to cover all the means of transportation, that is roads, water-ways and airplanes, and we should be ready by the end of the year," says Teodorovici.
The tobacco industry is one the biggest contributor to the state budget due to the special taxes imposed on tobacco, with an average of around 1 percent of GDP every year, and also one of the biggest exporters.