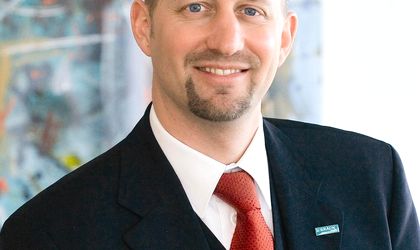 B. Braun Medical has to recover, mostly from the Romanian state, outstanding debts of some 80 percent of last year's turnover, which reached EUR 12.3 million. Martin Wenderoth, managing director of the company, told Business Review that despite this situation, the German company plans to invest EUR 6 million in the next two years, to expand production and to make Romania a hub for South East Europe. Moreover, Christian Braun, CEO of B. Braun Central and Eastern Europe and member of the founding family, added that his plans are for Romania to reach the average European turnover, meaning EUR 100 million.
Dana Ciuraru
"Currently, the total outstanding debts of B. Braun Medical reach some RON 40 million, while our turnover last year reached RON 52 million," Martin Wenderoth, managing director of B. Braun Medical, summarized the firm's local situation for Business Review. As some 70 to 80 percent of the German company's local market portfolio is covered by public hospitals, it follows that B. Braun Medical has to deal with a very ill patient in Romania: the state.
Wenderoth is still confident of recovering the debts despite the fact that Romania's economy is ailing, as the EUR 20 billion bailout fails to give the patient a new lease of life. "I think the Romanian state has the same problems as many countries in the region. We have legally binding contracts so sooner or later I am quite positive that we will get the money back," said the managing director.
However, one might ask: What are the elements that keep B. Braun an active player on the local market despite the company's situation and the economic climate that has been so severely affected by the recession? Wenderoth responds that the Romanian market has a current capacity of some 3.9-4.1 percent of the Gross Domestic Product (GDP), while the European average is 7-8 percent. "So, slowly but surely Romania will have to reach the European average," he says. And the company has a tradition of being patient.
"B. Braun started more than 170 years ago in a small pharmacy in a town in central Germany, since when we have managed to develop a multinational company which last year registered a EUR 4 billion turnover," Christian Braun, CEO of B. Braun Central and Eastern Europe and member of the founding family, told Business Review.
Capital infusion
Currently, B. Braun Medical has collaboration contracts with 400 of the total 460 hospitals, out of which 60 are in Bucharest. In addition, the company has inked contracts with another 200 customers, like veterinary clinics, pharmacies and distributors, betting on the private healthcare sector for the future. "I see the private healthcare market currently at 5-10 percent but growing, as companies like Euroclinic, Medlife and Medicover continue to open private hospitals," said Wenderoth.
Despite the economic turmoil, B. Braun Medical officials have announced that they have EUR 6 million of investment plans for the following two years. "This year, we are going to invest EUR 4 million to increase the capacity of the production site in Timisoara from 12 million bottles of infusion solutions by an additional 6-7 million units next year, in order to reach a total capacity of 19 million bottles by 2011. We will create another 40 new jobs at the production unit in Timisoara. Also, for 2011, we have plans to invest an additional EUR 2 million. This money is from our private funds," said the managing director.
These investments will join the EUR 1 million project completed last year to move the company's offices and warehouse to Remetea Mare, close to Timisoara. "Our plan is that this location will be used as a hub for other neighboring countries' needs, a measure that will strengthen Romania's position in the B. Braun group," added the official.
Regional targets
Locally, Braun has plans to reach a EUR 100 million turnover soon. "The total turnover reached in Romania last year was RON 52 million (EUR 12.3 million). The target is that Romania will reach the European average of EUR 100 million. For instance, last year B. Braun's turnover in the Czech Republic was EUR 90 million," said Braun.
According to him, the general target for South Eastern Europe is for B. Braun to be the dominant and most reliable partner for the healthcare systems in the market. He gave an example: the European market for infusion solutions is approximately 600 million bottles per
year, while B. Braun currently provides some 300 million of this quantity per year to the European market.
And the company keeps expanding in the region. "At the moment we are going further south. We opened last year our subsidiary in Croatia, we started to promote ourselves in Serbia and Macedonia and we will expand to the former Yugoslavian republics in a few years. We already have an office in Ukraine and of course in Russia," said the CEO.
dana.ciuraru@business-review.ro