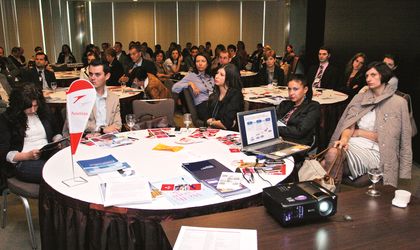 2009 can be described as nothing short of a horror story for many local industries which have seen their business shrink as markets collapsed. But it's not all bad news and there is still confidence, said businesspeople present at the second Austrian Business Forum organized by Business Review last week.
Simona Bazavan
The pipeline of foreign investments to Romania hasn't dried up but there is a lot of room for improvement.
When it comes to the local authorities, all fingers point at the global economic crisis as the culprit for the current situation, but there remain many economic setbacks with a local flavor. In a single voice, businesspeople attending the event slammed the government's inability to secure a stable fiscal environment.
If tax rates in themselves are not a necessarily a drawback, overnight changes and delays in VAT refunds, among other difficulties, make it hard to run a business here. Future investments also depend on expanding and modernizing the local infrastructure and attracting a higher level of EU funds.
On paper, Romania has some of the lowest labor costs in Eastern Europe. Company representatives agreed however that real costs are higher and that there is a pressing need to invest more in innovation and productivity.
A large number of Austrian companies are active in Romania in most local industries.
The country ranks top of the foreign investors to Romania with over EUR 10 billion invested so far. EUR 500 million was spent last year and the same amount is set to be reached in 2010 too.
The event, which attracted about 70 company officials, was organized in partnership with IKB Leasing, Noerr, Austrian Airlines, Horvath&Parners, PricewaterhouseCoopers and Marsh and with the support of Ramada Plaza.
For more information about future BR events, please visit www.business-review.ro/events/.