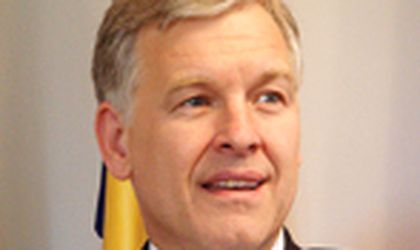 What are the main areas of interest to Austrian investors in Romania, and what has changed in this respect compared to recent years?
I am very happy to say that Austrian investments in Romania have continued even in this time of crisis. Since the beginning of the year, Austrian companies have invested more than EUR 1 billion. Most of the money went into the energy, environmental technology and infrastructure sectors.
To what extent do you expect an increase in the Austrian presence in Romania? What sort of new investment projects do you expect?
The Romanian market continues to be of great interest to Austrian investors. I am very confident that we will see a further increase in the Austrian presence here. There is a variety of new projects which are under consideration, ranging from municipal infrastructure, for example clear water and waste water management, to biomass power plants, as well as promising projects in the sectors of agriculture, tourism and healthcare.
What are the main difficulties Austrian investors are facing in Romania and how could the Romanian state help in addressing them?
Austrian companies often complain about excessive bureaucracy and lengthy administrative procedures when it comes to necessary permits or tenders. The efforts by the current government to make the administration more efficient are most welcome.
Austrian banks and insurance companies are among the top investors in the Romanian financial system, and they have pledged to continue investing their profits in Romania. How do you think this will be reflected in the overall amount of Austrian investment in Romania, as a year-on-year comparison?
Austrian banks and insurance companies have re-invested some or most of their profits in Romania as have other companies. The economic crisis offers good opportunities to increase market share. Many companies have also reacted to the crisis by making their operations more efficient and competitive. Austrian investments in Romania, which have reached the impressive level of EUR 12 billion since 1990, will show a further and substantial increase by the end of this year. Sometimes it is difficult to follow and adequately measure the real investment flows, as in a globalized economy investments are sometimes made from different sources and through intermediary countries.
What sort of incentives do Austrian investors find in other European countries in order to help their activity, which would also be of help here?
There are a number of measures which would be beneficial for foreign investors, such as an improvement in Romania's infrastructure, a simplification of administrative procedures, transparent tendering procedures, the uniform implementation of laws, shorter durations of legal procedures in court and simplified tax laws. The government is aware of these issues and has already taken steps to remedy them. However, still more needs to be done.
corina_saceanu@business-review.ro