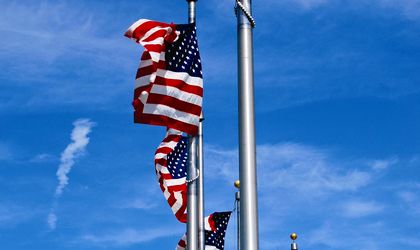 Total American investments to Romania are estimated to reach USD 10 billion, including those made by the European subsidiaries of US companies. Last year alone American capitalized companies invested approximately USD 0.5 billion in the country, according to Blair LaBarge, economic counselor with the United States Embassy to Bucharest.
Simona Bazavan
Romania has great development potential and continues to be on the map for American investors in the region but a lot depends on the government's capacity to make and keep Romania a competitive market, LaBarge added.
In his opinion the government's decision to hike VAT to 24 percent sends a very unfortunate signal to foreign investors and is likely to have a negative impact on the economy.
LaBarge also said that he would advise caution to any American investor who plans to come to Romania and do business with the local authorities as long as the government doesn't improve the present PPP law.
American IT&C companies look to become a local growth driver
In the last few years Romania has proved to be a popular destination for IT investments in the region.
Many major American IT players are present locally, some of them having come as early as the 1990s, attracted by a well prepared local workforce.
According to Calin Tatomir, GM of Microsoft Romania, the local IT industry has a growth potential ten times higher than that of the country's GDP.
IBM Romania was founded in November 1995 and manages two local centers, Global Procurement Services Group Romania Remote Delivery Center and Application Services Global Delivery Center Eastern Europe, both headquartered in Bucharest.
The IT provider ended 2009 with financial results below those it registered in 2008 when it posted a turnover of approximately EUR 51 million and a profit of some EUR 4 million, but above the figures from 2007, according to company representatives.
The company currently employs 1,500 people and has recently announced that it will continue to recruit this year for junior and specialist IT positions.
Another important player on the market, Microsoft Romania says it plans to reach a market share of 18-19 percent by the end of 2010. Microsoft launched Windows 7 and Office 2010 earlier this year and says it is looking forward to aggressive growth.
"We will probably not reach the level of 2008 any time soon. We already said at the end of the fiscal year (June 2009), we had had a 12 percent decrease in the 2009 turnover compared to the 2008 turnover. The evolution that Microsoft Romania will have in the next fiscal year (July 1, 2009-June 30, 2010) will probably not compensate for the 12 percent decrease. So 2010 will probably not return to the level of 2008. We would like to get there but I think we have a realistic budget and fiscal plan and at this point we are on target," Tatomir, told Business Review at the end of 2009.
In telecom, UPC came to Romania 1992 and in 2005 acquired Astral Telecom, the biggest national cable operator.
"The telecom market is dynamic and will develop further. New products will continue to be launched on the market. TV service is being revolutionized by new developments (DTV, DVR, HD) and therefore a huge market potential is activated. Internet is also under development and product upgrades in terms of speeds will also trigger market development. Our strategy continues to focus on product leadership, either through new products, value added services or products upgrades (DTV, DVR, HD, internet speed upgrades) and we are also focusing on improving existing services," UPC Romania representatives told Business Review.
"In almost 18 years of activity on the local market, the company has invested almost EUR 1 billion, thus becoming the biggest American investment in Romania," company representatives added. Last year the firm invested EUR 52 million, EUR 30 million of which went into network extensions and upgrades while the rest represented various other technological investments.
"In 2010 we will invest RON 124 million in Romania mainly in network extension and upgrade. In this respect, we continue to focus on extending our footprint of digital television services (in Prahova Valley and six other cities this year) and we are preparing the network for the launch of hyper-speed internet (Euro DOCSIS 3.0)," said company representatives.
They added that local economic conditions are putting the company under substantial competitive and macroeconomic pressure in Romania, which is adversely affecting UPC's rebased growth rate in Central and Eastern Europe.
Ford renegotiates with Romanian authorities
Car manufacturer Ford has asked the Romanian authorities to extend the contractual deadline for investments and production parameters at the factory in Craiova. Ford closed in fall 2007 the deal to buy a 72.4 percent stake in Romanian state-owned auto assembly plant Automobile Craiova for EUR 57 million.
Under the terms of the contract, Ford should have reached a production level of 250,000 units by 2011, the penalties for not meeting the deadline representing 25 percent of the contract's value.
Two and a half years after Ford bought the factory in Craiova it has produced approximately 400 units.
Addressing this issue at a press conference organized last week by the American Chamber of Commerce in Romania (AmCham), US ambassador to Romania, Mark Gitenstein, said that Ford wishes to build 1,000 cars per day but the lack of infrastructure prevents the car manufacturer from transporting these vehicles out of Craiova.
Fast food for slow economic times
McDonald's Romania celebrated the 15th anniversary of the opening of its first restaurant in the country three weeks ago.
"Throughout our history, we are pleased to have employed so many people, contributed to the local economy and developed local products as we grow our brand. The long-term opportunity in our market remains strong. We will continue to match consumers' changing lifestyles and needs by offering new services, new occasions to visit, and new menu offerings," said Karen Bishop, managing director of McDonald's Romania.
Located in Piata Unirii, the fast food chain's first local branch served over 15,000 customers on its opening day, setting a central European record.
Since 1995, the company has launched 62 restaurants in Romania, employed more than 3,400 people and invested over RON 300 million in the development of its business.
It has served a total of 500 million customers – more than 140,000 every day, according to the company. McDonald's expects a 5 percent turnover increase this year.
"In 2010 we plan to open one to two more restaurants. We have already opened one Drive-Thru in Bucharest and a restaurant in Sun Plaza Shopping Center, also in Bucharest. And we have started this year the remodeling of two of our restaurants: Dristor and Pitesti Trivale. Overall we will invest more than RON 45 million in our development plans for this year. In 2011, we plan to invest approximately as much as in 2010 in restaurant openings and remodeling," company representatives told Business Review.
Fast food chain KFC and casual restaurant network Pizza Hut represent two other famous American brands which are locally operated by the Romanian companies U.S. Food Network Company SA and SC American Restaurant System SA through franchising since 1997 and 1994 respectively.
"At KFC we have invested about EUR 19 million, including over EUR 4 million in 2009.
At Pizza Hut we have invested EUR 8.7 million with EUR 260,000 invested last year," Carmen Lupulet, marketing manager for the two brands, told Business Review.
"At KFC we are not planning on changing our strategy too much compared to the last two-three years, but compared to the years before that, yes, we have increased the speed of the brand's development. For Pizza Hut, we have changed the strategy: in the last three years, we have created and developed our delivery division, PHD. The industry in which we are active is very dynamic, with a lot of changes (new names appear and disappear almost daily, even international brands appear on the market out of nowhere and then disappear into the unknown). This industry also depends very much on the economic environment, on the public's financial means, a lot more than it depends on tendencies and trends," Lupulet added.
FMCG American products, close to Romanians' hearts
Many of the consumer goods used on a daily basis by the average Romanian are American. For
example Coca-Cola, perhaps the most famous of American brands, has been locally present for over 19 years.
The soft drink is bottled in Romania by Coca-Cola Hellenic. Last year the company saw its sales in Romania fall by 12 percent in volume.
"Unit case volume in Romania declined in the double-digits in the fourth quarter and by 12 percent in 2009," a report released by the company this February read.
"The economic environment in the country continues to remain highly challenging with unemployment rising. We continue to have a positive long-term view of the Romanian market with our investments focused on driving improvements in operating efficiency and supporting future growth," the report went on.
The company sold 174 million unit cases last year in Romania, similar to 2007's figure. Its local sales grew 11 percent in 2008 on the previous year. The firm's sales volume in Romania last year was similar to Coca Cola Hellenic's in Nigeria, and below the figure in Russia, at 299 million unit cases.
Procter & Gamble (P&G) has been active in Romania for 17 years. It now operates four divisions in Romania: P&G Distribution SRL, P&G Marketing Romania,
the company division that produces detergents and bleaches in Timisoara and P&G Materials Management.
P&G started its first greenfield investment in Romania, a production unit of shampoo and haircare products in Urlati, Prahova county, at the beginning of February 2009.
The company had hired 150 people for the production facility by the end of the year. The majority of the production – 90 percent – is exported to markets in the region as well as Turkey, Russia and Ukraine.The brands that P&G sells in Romania are Ariel, Tide, Bonux, Ariel Professional, Ace, Lenor, Mr. Proper, Fairy, Pantene Pro-V, Head & Shoulders, Safeguard, Herbal Essences, Wash&Go, Blend-a-med, Camay, Always, Alldays, Discreet, Naturella, Pampers, Wella (Safira, Wellaton, Wellaflex, Wellaforte, Design), Londa (Londa Color, Londa Trends), Olay, Gillette, Braun, Duracell and Oral-B.
On the outsourcing market, Accenture is present in Romania with all its three divisions: consulting (management consulting and systems integration & technology), technology (software development and maintenance) and outsourcing (business process outsourcing, or BPO). The BPO delivery center opened in June 2006 and the consulting business in March 2007.
The delivery center employs 250 people who deliver services to multinational companies in business areas such as: finance and accounting, human resources, procurement and insurance in a wide range of languages.
"We have, for the next 12 months, 35 percent employee growth already planned in terms of contracted client deals and we expect this to grow further as we close out more opportunities. So our key focus is to attract, recruit and train the best language-skilled talent in the market and to continue to grow and mature our current teams to deliver high quality service to our current and future clients," Nicholas Butt, BPO service delivery operations lead in Bucharest at Accenture, told Business Review.
UPS Romania has recently inaugurated a new operational center at Henri Coanda International Airport. The facility replaces the three previous centers that operated in Bucharest and serves 60 percent of the country.
"UPS continues to see opportunity in Eastern and Central European markets, primarily in those that are part of the EU and where trade has accelerated over the past years and businesses are growing and participating in the global economy. Romania, with its 22 million inhabitants and a maturing economy, remains an opportunity market for many businesses and, consequently, for transportation companies who need to operate in proximity to their customers," Iulia Nartea, country manager, UPS Romania, told Business Review.
"UPS's strategy for this year will be the same as in previous years. We will continue to make the strategic investments that provide opportunities to grow the company and strengthen our services to customers," she added.
Local American banks explore new options
Several subsidiaries of American financial and insurance companies are active in Romania.Citibank has offered corporate services in Romania since 1996. The bank's business portfolio has been expanded since 2008 to include credit cards and retail banking.
Last year it opened two new branches in Bucharest, taking its total in the capital to seven. It has launched Citigold, a premium banking service for wealthier customers who can invest at least USD 50,000 in financial instruments. According to representatives of the lender, the move is a natural result of its intention to consolidate its major-player position on the Romanian banking sector.
In January 2010 AIG Life Asigurari Romania was rebranded as Alico Asigurari Romania, taking over the majority stakeholder's name, American Life Insurance Company (Alico).
At that time company representatives announced that within the business profile, the structure and specialization in life insurance, especially on guaranteed products, financial and investment strategy, product portfolio, distribution channels and the way the business is managed, will stay the same. Along with the name change, AIG Fond de Pensii has also become Alico Societate de Administrare a unui Fond de Pensii Administrat Privat.