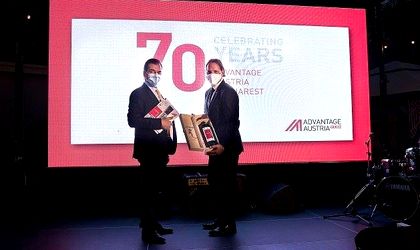 Romanian Prime Minister Ludovic Orban, Minister of Economy Virgil-Daniel Popescu, and key figures of the Austrian and Romanian business community gathered in Bucharest to honor an impressive 70 years of thriving business relations between the two countries.
On May 1st 1950 ADVANTAGE AUSTRIA, the Commercial Office of the Austrian Embassy in Romania, opened its Bucharest office – 5th in the world after Paris, London, Rome and Frankfurt.  Since then, Austrian companies have become essential stakeholders in Romania's economy, having invested over EUR 10 billion to date.
"Austrian Companies in Romania have over 100,000 direct employees, and the number continues to grow. The year 2020 is when we celebrate 70 years of successful bilateral economic relations, 70 years of joint development, 70 years of ADVANTAGE AUSTRIA in Romania. We are proud of what we have achieved together and thank Romanians for being such wonderful business partners and friends!" stated Gerd Bommer, Head of ADVANTAGE AUSTRIA Bucharest.
The event saw the launch of the book "Celebrating 70 years", which summarizes the main achievements throughout this period, the historical evolution and current infrastructure that supports trade, commerce and investments between Romania and Austria. Likewise it profiles dozens of key Austrian investors, such as OMV Petrom, BCR/Erste Bank (two of Austria's largest global FDIs of all time), CA Immo (the 2nd biggest real estate developer in the country) and many others. Their contribution can be easily spotted in both business and everyday life – for example, the Austrian Strabag played an important part in the construction of SkyTower, the country's tallest building.
"Austria is responsible for almost 12% of all investments made in Romania since the '90s, an extremely high percentage. We have trade of over EUR 4.2 billion a year, which shows an extremely strong link […] The message I want to convey to Austrian companies is that they can rely on a loyal partnership – we are aiming to simplify things, to digitalize, to create the shortest possible path from idea to implementation […] I am convinced that together with OMV Petrom we will find the best solution for the investment in the Black Sea." stated Romanian Prime Minister Ludovic Orban.
There are currently about 1,500 active Austrian companies in Romania and 200 Romanian companies in Austria – the stage is set for the business ecosystem of the two countries to thrive, even in the face of adversity such as the COVID-19 pandemic has brought upon the world. The reaction of Austrian business community has remained one of resilience and adaptation.