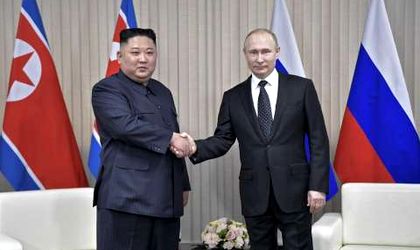 North Korean leader Kim Jong-un and Russian President Vladimir Putin have met in Vladivostok, Russia for their first-ever summit, the BBC reports.
The two leaders are expected to discuss denuclearisation, while Kim is also seeking alternative support after failed talks with US President Donald Trump earlier this year. He may also try to convince Putin to lift some of its sanctions.
Kim Jong-un travelled to Russia on his armoured train and welcomed with a brass band.
"I hope that during the talks with respected President Putin, I will be able to discuss in a concrete manner issues relating to the settlement of the situation on the Korean peninsula, and to the development of our bilateral relations," Kim said.
Russia's presidential spokesman Dmitry Peskov said that the Kremlin sees the currently stalled six-party talks on North Korea, which began in 2003 and involved North and South Korea, China, Japan, Russia and the US, are the only good way to address the issue of nuclear weapons in the Korean peninsula.