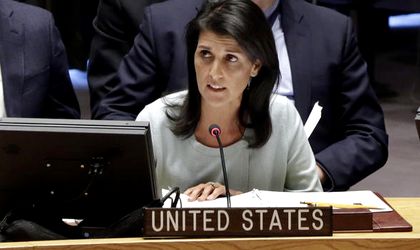 US Secretary of State Mike Pompeo and US Ambassador to the UN Nikki Haley have announced the country's departure from the United Nation's human rights council in a joint statement on Tuesday, according to CNBC.
The US officials cited longstanding US complaints that the 47-member council is biased against Israel. Although the US had threatened the withdrawal since last year, the announcement comes just a day after the UN human rights chief denounced the Trump administration from separating migrant children from their parents.
"For too long, the human rights council has been a protector of human rights abusers and a cesspool of political bias," said Nikki Haley. "Regrettably, it is now clear that our call for reform was not heeded."
The withdrawal is part of a broader pattern by the Trump administration of stepping back from international agreements and institutions. The US has already withdrawn from the Paris climate agreement, the UN educational and cultural organisation and the Iran nuclear deal.
The move is unprecedented in the human rights council's 12-year history. No country has ever dropped out voluntarily – only Libya was kicked out seven years ago.
Israel's rights record comes up for discussion at every council session, under "Item 7" on "Israel and the Occupied Palestinian Territories".
The pullout would be largely symbolic – the United States' current term on the council ends next year, when it could revert to observer status held by non-member countries. There are 47 countries in the Human Rights Council, elected by the U.N.'s General Assembly with a specific number of seats allocated for each region of the globe. Members serve for three-year terms and can only serve two terms in a row.