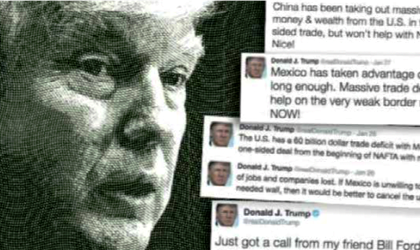 The trade war between USA and the rest of the world is escalating global tensions every day. And the agendas that pander only to self-interest are jeopardising the global economy, as we can see from Steen Jakobsen analysis, the chief economist and CIO of SaxoBank.
We are entering one of the most dangerous periods for the global economy since the Berlin Wall fell in 1989. The 'trade war', which was never supposed to happen in the first place, is now making headlines every day. The short-sightedness of the world's governments is remarkable, and given the history of trade wars, profoundly alarming.
There are three possible paths from here:
A 'mild' crisis where the US, China, and Europe all reach higher tariff levels but stop short of creating outright 'walls' – probability: 25 percent.
A more severe crisis with escalating trade tensions into the November 6 US mid-term elections and beyond (where President Trump must show his base that he is living up to his promises of 'getting the US a better deal') – probability: 50 percent.
A move on par with the Smoot-Hawley Tariff Act of June 1930 – probability: 25 percent.
Note that every one of these scenarios leads to weaker global growth! There are no winners in a trade war, and the trend is pointing in the wrong direction as nationalist agendas erode the status of global institutional frameworks.
History teaches us that this can end badly. The worst example was the US Smoot-Hawley Act of 1930, which raised tariffs by 45 percent on over 20,000 imported goods. The Act was borne of an electoral promise to protect US farmers, who made up 25 percent of the US population prior to the reat Depression. The fallout from this disastrous legislation was instant:
May, 1929: Smoot-Hawley passes the House; stock prices drops to 191 points.
June 19, 1929: Senate Republicans revise the bill; the market rallies, hitting its peak of 216 on September 3.
October 21. Senate adds tariffs to non-farm imports; Black Thursday stock market crash.
October 31. Presidential candidate Hoover supports bill; foreigners start withdrawing capital.
March 24, 1930, Senate passes the bill; stocks fall.
June 17, 1930. Hoover signs the bill into law; stocks drop to 140 in July.
Global trade fell 65 percent in the wake of the Smoot-Hawley Act. US exports fell from USD 7 billion in 1929 to USD 2.5 billion in 1932 and farm exports fell by two-thirds. Ironically, grain prices collapsed, leaving millions of farmers destitute.
In 1989 Francis Fukuyama wrote his famous essay, 'The End of History and the Last Man'. His argument, in the context of the crumbling Soviet empire and Tiananmen protests, was that the victory of Western liberal democracy was secured as "history… appeared to culminate in liberty: elected governments, individual rights, an economic system in which capital and labour circulate with relatively modest state oversight".
But Fukuyama's arguments haven't aged well. As globalisation took off, cracks in the economic model started to show. Most will argue that globalisation is driven by technology; the internet supersedes borders and thus creates economies of scale and price transparency. The standard theory of trade teaches us that while trade may raise aggregate growth and income, it can also produce winner and losers.
If the loser is a big economy or a strong political power, they may impose restrictions – tariffs, for example – to counter the competitive disadvantage.
What makes trade issues more challenging today is that currencies no longer follow the paths that current account dynamics imply they should. A country running a current account surplus is supposed to see a strong/ higher currency, but in today's world, the big current account surplus economies all seek to avoid currency strength versus the global dollar standard in order to maintain competitiveness and avoid the risk of deflation (and the scary effect of that deflation in an overindebted world).
THERE ARE NO WINNERS IN A TRADE WAR
Enter a President Trump, who is now telling the world that he will accept no longer accept this status quo, and that the current framework is unfair to the US.
The Trump narrative goes something like this: "we helped Europe after World War Two with the Marshall Plan. We helped Korea and Japan after the Korean War, and WWII as well, and we even helped China by giving them access to the World Trade Organization in 2001. What did we get in return? Nothing! Except deficits as far as the eye can see."
This is the story President Trump has been telling his voters forever, and one that he endorsed long before he became president.
Consensus still holds that an outright trade war will be avoided, but this ignores the mid-term elections in the US. It's not just about Trump, either – it also has a lot to do with China's move to raise its global profile along every axis.
Take this recent story from Xinhua: President Xi urges breaking new ground in major country diplomacy with Chinese characteristics. This is an effective declaration to the world that China is now competing with the US and its allies for global leadership in trade and even governance. The characteristically cryptic language used still sends a clear message: "[Xi Jinping] also urged the efforts to firmly safeguard China's sovereignty, security and development interests, take an active part in leading the reform of the global governance system, and build a more complete network of global partnerships, so that new advances will be made in major country diplomacy with Chinese characteristics to create a favorable environment for, and make due contributions to, building a moderately prosperous society and a great modern socialist country in all aspects."
China's chief approach to this vision is so far a mercantile one via its commitment to the One Belt, One Road plan. Beijing may have already given up on the US as a long-term export market – the longer it keeps its market share, the better – but the OBOR Plan B has already been initiated and it's a plan that circumvents the US. The US, of course, is now actively breaking down the very international organizations that have supported growth and globalization since the end of World War II and after the fall of the Berlin Wall.
WORLD TRADE GROWTH MAY FALL BY MORE THAN 6 PERCENT
A United Nations report from May of this year states it plainly: trade war could trigger 'a sharp drop in global investment and trade'.
The scenario outlined by the UN suggests that a steep escalation of global trade barriers could reduce world gross product growth by 1.4 percent in 2019 and slow world trade growth by more than 6 percent. Trade losses of this magnitude are roughly half those experienced in 2009, the worst year of the global financial crisis. If the recent trend towards increasing trade disputes were to escalate into a spiral of retaliation, the repercussions for the world economy, including many developing countries, could prove far more severe.
Waning global growth, falling credit impulses globally, and massive complacency on the risks of a trade war are our unfortunate warnings for the rest of 2018.