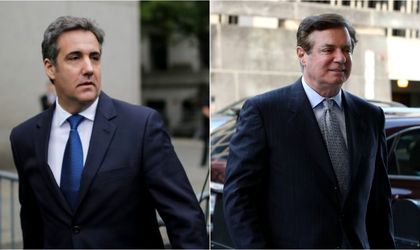 Donald Trump is believed to have had a difficult day on Tuesday, as his former campaign chairman Paul Manafort was convicted on eight charges of bank and tax fraud, and less than an hour later his former lawyer Michael Cohen pleaded guilty to eight charges including campaign finance violations and directly implicated trump in paying "hush money" to women with whom he allegedly had affairs, The Guardian reports.
Since Trump was elected president, several of his associates admitted or were convicted of crimes – his national security adviser, personal lawyer, campaign chairman, deputy campaign manager and a foreign policy aide.
Adding to yesterday's legal drama, a republican lawmaker in California, Duncan Hunter, was indicted for corruption after he and his wife used campaign funds to make personal purchases.
Trump's former campaign manager Paul Manafort, 69, whose trial arose from special counsel Robert Mueller's investigation, was found guilty by a jury on eight fraud charges. This conviction could put him behind bars for decades, but some say he might have an ace up his sleeve and give Robert Mueller's team some valuable information on Trump, although yesterday's trial was not directly linked to the special counsel's investigation of Trump's possible collusion with Russia. Manafort is also facing additional charges in a separate case.
During a rally in West Virginia, Trump called Manafort's verdict a "witch hunt" and a "disgrace".
While Manafort looks ready to appeal his conviction, Trump's former personal laywer Michael Cohen pleaded guilty to bank fraud, tax fraud and campaign finance violations, and also said that Trump directed him to make payments to two women who alleged sexual affairs with his boss, which would have violated campaign finance regulations.
The president has denied any knowledge of the payments at the time they were made. His role in them could draw him personally into legal jeopardy, legal analysts said.
US attorney Robert Khuzami said that Cohen admitted to hiding the billings he made to "the candidate" for "money to silence two women" by submitting invoices for legal services, but no such services actually existed and the invoices were reimbursements for the hush payments.
Cohen admitted to hiding $4.3m in income over a five-year period, including receipts from loans, from his taxi business and from brokerage commissions. The subterfuge resulted in $1.3m in unpaid taxes. He also failed to disclose more than $14m in debt in a mortgage application.
As part of his deal, Cohen agreed not to challenge any prison sentence from 46 to 63 months. However, he did not agree to testify in other matters, such as the investigation by special counsel Robert Mueller of ties between the Trump campaign and Russia.