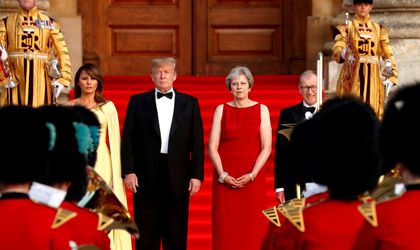 Donald Trump said in an interview with The Sun that the UK will "probably not" get a trade deal with the US if Theresa May's current Brexit plan goes forward, because it would mean the US "would be dealing with the European Union" instead of with the UK, the BBC reports.
On Trump's first UK visit, Theresa May made the case for a US-UK free trade deal, and called Brexit an opportunity to create growth between the two countries.
Trump also said that Boris Johnson, who recently resigned as May's foreign secretary, would make a "great prime minister".
He also criticized London Mayor Sadiq Khan, saying he had done a "terrible job" due to last year's terror attacks in the city.
The interview with The Sun is said to have taken place in Brussels, and was released during Trump's official dinner with Theresa May.
He told the newspaper that the UK's plan for Brexit is "a much different deal than the people voted on" and that he had told May how to do a Brexit deal, but that she didn't listen.