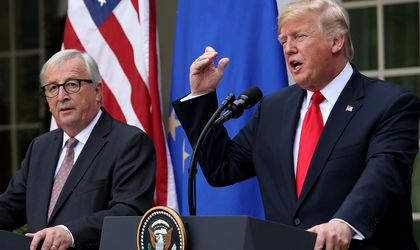 US President Donald Trump and European Commission President Jean-Claude Juncker met at the White House on Wednesday and agreed to work together towards zero tariffs, barriers and zero subsidies on non-auto industrial goods, Euronews reports.
"We will also work to reduce barriers and increase trade in services, chemicals, pharmaceuticals, medical products, as well as soybeans," Trump said at the press conference after the meeting.
Juncker added the US would hold off on further tariffs while trade negotiations were taking place. "We had the intention to make a deal today and we made a deal today," he said.
The talks would also seek to "resolve" US tariffs on steel and aluminum and Europe's retaliatory duties – a step back from Trump's signature import protections for American metals producers.
Trump later tweeted that work on documents was "moving along quickly," adding that the meeting with Juncker had "great warmth."