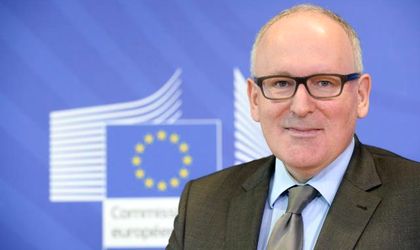 Frans Timmermans, the Vice President of the European Commission, launched a series of harsh criticisms during the LIBE commission debate on the rule of law in Romania, against the PSD-ALDE coalition in Romania, and accused the two parties of having begun an offense against the independence of the justice system and against the anti-corruption fight in Romania.
Timmermans warned the Romanian Government that if they will not take in consideration all the recommendations made by the European Commission, GRECO and the Venice Commission, the country will face hard consequences.
Here are the main statements made by Frans Timmermans on Romania:
Government's attempts to modify the Justice Laws raised serious concerns internally and internationally. These concerns are also shared by the European Commission.
Unfortunately, the Romanian Parliament ignored the foreign criticism about these changes. One of the three laws has already been adopted, as will happen with the other two.
On Laura Codruta Kovesi's dismissal: The Constitutional Court forced the president to dismiss the head of the DNA.  This institution's activity was the main reason why the last MCV report was a positive one.
There is a real risk that Romania will take steps backwards in its anti-corruption fight.

I'm asking the Romanian authorities to rethink the changes made to Justice Laws.
We were all shocked to see the images with the peaceful protesters beaten by law enforcement on August 10th.
The changes made to Justice Laws will affect the anti-corruption fight and will represent a step backwards compared to 2017. It is not too late to give up on those changes.
A step backwards would be a huge disappointment for all of Romania's EU partners.
It would be a tragedy if before the last miles of the marathon Romania chose to run in the opposite direction
We will not hesitate to take the Romanian government to court if they don't comply with the recommendations we made in the CVM report and the GRECO report and with the Venice Commission's opinion.
On the Referendum: The European Commission has no power in this matter. This issue should not be used to feed some of our darkest demons: the hate against the sexual minorities, the attempt to bring women in the same situation they were centuries ago. Be careful about the equality mentioned in treaties, it is applied to everyone no matter their sexual orientation!