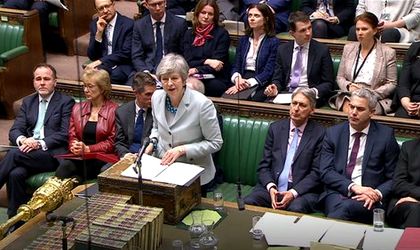 British PM Theresa May has offered to hold talks with Labour party leader Jeremy Corbyn in order to "break the logjam" surrounding Brexit and let parliament take over the process if the two cannot reach a compromise, according to The Guardian.
May also said she would request an extension to Article 50, but that it would have to be "as short as possible", and not go later than May 22, otherwise the UK would have to take part in the EU elections. It is yet unclear whether the EU will agree to another extension.
The PM wants to reach an agreement with Corbyn and submit it to a vote in the House of Commons before April 10, the date of the EU's emergency summit on Brexit. However, despite their openness to talks, it may be extremely difficult for them to find an agreement in such a short period of time.
Her statement on Tuesday night, coming after a long cabinet meeting, also seemed to open the door to a softer Brexit, as it did not rule out either a customs union or a second referendum.
Some of the Brexiteers in May's Conservative party were angered by her offer to make a deal with Labour, but she insisted that this was "a decisive moment in the story of these islands and that requires national unity to deliver the national interest."