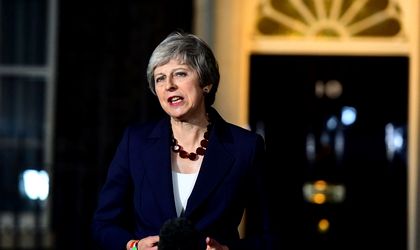 Theresa May said on Sunday, after EU leaders in the European Council approved the Brexit deal, that the UK Parliament would vote on the deal by Christmas, "after a crucial national debate."
After 20 months of negotiations, the 27 EU leaders voted for the deal after less than an hour of discussions, according to the BBC.
Theresa May said the deal set the UK "on course for a prosperous future".
The UK Parliament is expected to vote on December 12, but a "Yes" vote is not guaranteed, as many MPs, both part of the parties in power as well as the opposition, have said they would vote against the deal. If this happens, Britain's situation will be very difficult and unpredictable, possibly resulting in a "no deal" Brexit or a new referendum on the deal itself.
May said that the deal she reached with EU leaders would end freedom of movement "in full and once and for all", protect the constitutional integrity of the UK and ensure "a return to laws being made in our country by democratically elected politicians interpreted and enforced by British courts."
European Commission president Jean-Claude Juncker said it was a "sad day" and no-one should be "raising champagne glasses" at the prospect of the UK leaving. However, he added that this was the best and only deal possible.