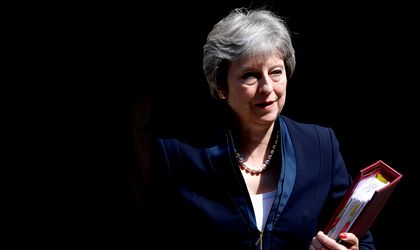 Theresa May is frantically attempting to save her Brexit negotiation strategy after talks were blocked due to the EU's insistence upon a Northern Ireland-only backstop, The Guardian reports.
The PM is expected to try to convince EU leaders to drop their Irish backstop proposal at a "make-or-break" summit dinner on Wednesday night. She used an emergency Commons statement to say the EU's plan "threatens the integrity" of the UK because it could create a customs border in the Irish Sea.
A backstop is required to ensure that there is no hard border in Ireland if a comprehensive free trade deal cannot be signed before the end of 2020. The EU plan would mean that Northern Ireland would remain in the single market and the customs union, prompting fierce objections from Tory hard Brexiters and the Democratic Unionist party, which props up her government.
She claimed the EU is sticking to its backstop proposal because the bloc's negotiating team had told her there was not enough time to evaluate a British UK-wide counter-proposal over the next few weeks. May's Brexit hardliner party members are also concerned about May's plans, claiming that her all-UK backstop plan needs to be clearly time limited.
Theresa May has already spoken separately to French president Emmanuel Macron, German chancellor Angela Merkel and Dutch PM Mark Rutte.
EU leaders acknowledged that the Brexit talks had hit a roadblock, although some insisted the problems could still be overcome. Donald Tusk, the EU council president, said a no-deal scenario was "more likely than ever before". Merkel said a breakthrough was still possible but would need "quite a bit of finesse and if we aren't successful this week, we'll just have to keep negotiating".