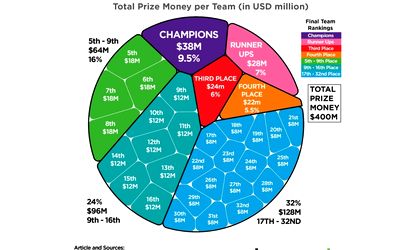 FIFA (Fédération Internationale de Football Association) is paying a lot of money to all the teams qualified to the final tournament of the World Cup, for 2018 being kept in Russia. The starting game is Russia versus Saudi Arabia, the first being the host of tournament. And just for being there both teams will receive a check of USD 8 million.
FIFA will pay a total of USD 719 million if we count the money that various football clubs will receive for their players that went to the tournament. Just for the clubs FIFA will pay USD 391 million and the rest of USD 400 million will go to the teams playing at the tournament.
As we can see from the visualization made by Howmuch.net, the biggest winner will be, of course, the winner of the Cup, that will take home also the sum of USD 38 million, ten million more than the second place. The other finalist will receive USD 28 million. There will be also a "small final" for the third place and the winner of that will take USD 24 million, while the loser, or the fourth place, will receive USD 22 million.
The losers from the quarter-finals, four teams in total, will receive each USD 18 million, while those from the last 16, eight teams in total, will get each USD 12 million. The other 16 teams, that will not pass the group phase, will receive each USD 8 million, which is just a payment for the qualifying at the final tournament.
The good thing is that even the smallest amount covers the cost of going to Russia for all the team and it is a good help for small countries that are not exactly rich. Also, the teams can benefit from selling their shirts or other accessories.
This is just another reason why it is such a shame for Romania not to be a part of the final tournament.