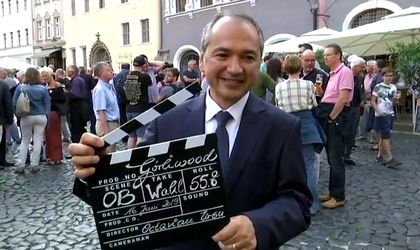 Octavian Ursu, a Romanian born CDU candidate, was elected mayor in the east German town of Görlitz, winning over 55 percent of the vote and outpacing his rival from the populist AfD party.
Ursu won 14,043 votes to Wippel's 11,390, according to electoral official Cornelia Herbst, cited by Deutsche Welle.
In the first round of voting on May 26, Wippel topped the ballot with 36.4 percent but fell just short of an absolute majority. Ursu trailed him by only six points, winning 30.3 percent of the vote.
Octavian Ursu came  to Görlitz in 1990 and started a family in the east German city.
Görlitz is located at the Polish border and is Germany's easternmost city. The picturesque medieval town of 57,000 is favored by Hollywood and has served as a location for more than 100 films, including The Grand Budapest Hotel, Inglourious Basterds, and The Reader.
In an open letter published online, filmmakers, actors, authors and activists called on residents of 'Görliwood,' as the town is known in Germany, to reject political extremism at the ballot box.
"Do not give in to hate, hostility, strife and marginalization," the letter reads, although it avoids explicitly mentioning either the AfD or any other party or candidate. "Do not give up when things go wrong."
Though the city attracts 300,000 tourists annually, it suffers from a brain drain of its young residents who have left due to a dearth of opportunities, as well as from high unemployment — double the national unemployment rate. These issues are reflected across eastern Germany.