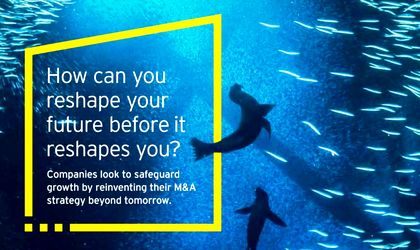 Most companies around the world (59 percent) are planning transactions over the next 12 months and United Kingdom is the main destination for investment for the first time in the last 10 years, according to an EY report.
Despite an increasingly complex geopolitical environment, global appetite for mergers and acquisitions (M & A) is a record of the past 10 years, according to the 20th edition of the Global Capital Confidence Barometer (CCB) report, a biannual study of over 2,900 executives from 47 countries. Companies continue to use acquisitions to build the foundation for strong future growth amid a growing uncertainty. Nearly six out of ten global companies (59 percent) are now planning to make a purchase next year, rising from 52 percent to 12 months ago.
Also, executives expect their counterparts to be active at the negotiating table, with 92 percent of respondents predicting the global M & A market will rise in the next year, compared with 86 percent in April 2018.
M & A's intentions are sustained by greater trust among corporations. In contrast to the opinion of many economists who predict a slower growth, and despite geopolitical uncertainties, executives around the world are more optimistic about macroeconomic outlook. An overwhelming majority of respondents (93 percent) believe that the global economy is improving, marking a 20 percent increase in positive expectations compared to 73 percent a year ago. This ambitious outlook for CEOs is reflected by optimistic estimates of their future performance: 76 percent of respondents expect revenue growth between 6 percent and 15 percent over the next year.
Although it focuses on transactions and growth, executives do not lose sight of the risks. One third of them (33 percent) believe that the main reason for concern is a potential slowdown in economic growth, although it is not expected to take place. A similar number of executives (27 percent) believe that geopolitical, commercial and regulatory uncertainties represent the greatest external risks for the development of their companies.
"Romania continues to be attractive to foreign investors as a result of rising consumption and purchasing power. The sectors of interest are both traditional ones, such as oil and gas or energy, and technology, which show increased effervescence," says Florin Vasilica, Transaction Advisory Services Leader, EY Romania.
Remodeling portfolios to reinvent the future
As the pace of innovation and change is accelerating, the frequency of portfolio reviews increases.
More than one third of companies (41 percent) re-examine their portfolios every three months, compared with less than 10 percent of them a year ago. Frequent portfolio reviews enable companies to identify investment and acquisition areas more easily and quickly, decide on the assets that should be ceded, and improve their capital allocation strategies.
And the pressures of activist shareholders trigger more frequent portfolio evaluations. These portfolio remodeling pressures are geared towards reconfiguration of operations or geographical footprint (35 percent of respondents) and asset release (28 percent). Also, these pressures focus on purchasing in over one third of respondents (37 percent).
The United Kingdom is on the top of investment destinations
Despite the persistence of uncertainties about its intention to leave the European Union (EU), the United Kingdom is ranked first among investment destinations for the first time in the ten-year history of the study, after the October 2016 ranking on the seventh position. Thus, the United States (USA) is ahead of the United States, Germany, China, France, Canada, India, Australia, Brazil and the United Arab Emirates.
Although the top position of the UK may be a surprise for some, given the current uncertainties, M & A's activity has remained strong throughout the post-2016 referendum to leave the EU. In 2018, 10 percent of global M & A transactions, totaling USD 400 billion, took place in the United Kingdom, representing the second best year after the financial crisis, with domestic transactions driven by robust inputs and outputs capital.
Another surprising change in the top is China's return among the top five investment destinations, although concerns remain about market access and reciprocity with the US and the EU.
And, despite protectionist issues, the US is a major investment destination for nine of the ten most active cross-border investors, including China.
All roads lead to transactions
Chief executives expect their transaction strategies to face fierce competition, 90 percent of them expect an increase in hostile and competitive bids in the coming year. At the same time, 88 percent of them expect more competition for assets from private equity funds, and 80 percent with the emergence of more mega-transactions (worth at least USD 10 billion).