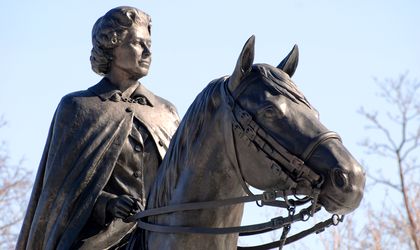 Elizabeth II has died yesterday after reigning for 70 years as Queen of the United Kingdom. Her reign of 70 years and 214 days (February 6, 1952 – September 8 2022) days was the longest in UK history and the second-longest of any monarch of a sovereign country.
Early on Thursday, the Royal House had issued a statement raising concerns over the Queen's health and concerned people started gathering outside Buckingham Palace, while her close family quickly gathered at Balmoral in Scotland, where the Queen passed away peacefully later that day.
The new monarch, King Charles III, said his mother's passing is a "moment of great sadness" for him and his family and that her loss would be "deeply felt" around the world.
"Heartfelt condolences on the passing of Her Majesty Queen Elizabeth II. Her Majesty's reign, spanning 7 decades, shaped modern history & is an exceptional symbol of loyalty & commitment to the public service. Romanians stand by the British people and the Royal Family." Stated President Klaus Iohannis.
"I speak on behalf of our Board of Directors, our members and friends of the British Romanian Chamber of Commerce as we bow our heads to the deeply sad news of the passing of Queen Elizabeth II today. I am sure that, in the following days, many people around the world will collectively raise those same heads and touch their hearts to recognise an incredible life of uninterrupted, dedicated service to the British people and members of the Commonwealth. Those outstanding 70 years of historical service witnessed the astonishing statistic of serving through 15 Prime Ministers, 14 USA Presidents and 7 Popes! May she now rest in peace and our sincere condolences to the Royal Family at this time of mourning and deep reflection." Said Colin C. Lovering, Chairman of the British Romanian Chamber of Commerce.
Queen Elizabeth and Romania
By Oana Vasiliu
King Michael I was Romania's last sovereign, but also a great-grandson of Queen Victoria and a third-degree cousin of Queen Elizabeth II of Great Britain, having also blood ties with other important dynasties in Europe, including the Spanish Royal Family as well as the Greek and Danish Royal Families.
Queen Anne, the wife of King Michael I, was the daughter of Prince Rene of Bourbon-Parma and Princess Margaret of Denmark, and the two met at Queen Elizabeth II's wedding with Prince Philip. Historians mention that in fact, a year previously Queen Helen, The Queen Mother, had invited Anne, her mother, and brothers for a visit to Bucharest, but the plan did not come off. Furthermore, she did not want to accompany her parents to London for the royal wedding as she wished to avoid meeting Michael I in official surroundings, but she found herself being introduced unexpectedly to King Michael I. Sixteen days after meeting, Michael proposed to Anne while the couple were out on a drive in Lausanne.
King Charles III, former known as Charles, Prince of Wales, is one of Romania's greatest ambassadors.  The king enjoys Romania, particularly Transylvania, where his majesty has several properties.
He first visited Romania in 1998 and has returned to the country almost every year ever since. He has been supporting foundations and programs focused on the protection of Transylvania's heritage and biodiversity and, through Prince Charles of Wales Romania Foundation, he  supported small farmers and ran a special program for the Romanian military injured in Afghanistan.
In May 2022, King Charles III was in Romania to launch Europe's largest cross border forest restoration project.
The EUR 20 million Horizon 2020 project, SUPERB (Systemic solutions for upscaling of urgent ecosystem restoration for forest-related biodiversity and ecosystem services), is coordinated by the European Forest Institute. The project involves more than 100 forest science and practice organizations in 20 countries and includes 12 large-scale forest restoration demonstration sites across Europe, and  one of the sites is located in the Romanian Carpathian Mountains and is funded by the prince's Circular Bioeconomy Alliance.
The Circular Bioeconomy Alliance was established by Charles in 2020. It provides "knowledge-informed support as well as a learning and networking platform to connect the dots between investors, companies, governmental and non-governmental organizations and local communities to advance the circular bioeconomy while restoring biodiversity globally," as the official website of the program states.
Speaking at the launch event organized in Sibiu, Prince Charles emphasized the need for a circular bioeconomy, investing in three mutually reinforcing areas: biodiversity, innovation and local and indigenous communities.
Earlier this summer, King Charles's house in Viscri, a small village in the Transylvania region, central Romania, has opened to the public.
The traditional Saxon property is a traditional Saxon household where tourists can taste local products in the cafe. Moreover, while walking in the gardens, they can learn about summer schools organised by The Prince of Wales's Foundation in Romania  in partnership with the Order of Architects of Romania (OAR), as well as a special gardening project for the children from the village.
Photo: dreamstime.com