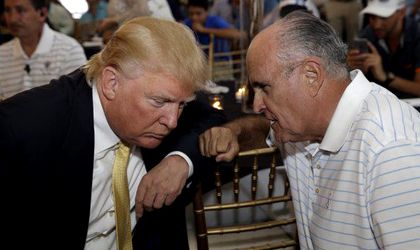 Rudy Giuliani, the personal lawyer of US president Donald Trump, was paid by a global consulting firm when he sent a letter to the president of Romania, Klaus Iohannis, in which he criticized what he called "excesses" of the Romania's anti-corruption agency, the DNA.
In the letter published by Mediafax newswire, the lawyer writes that the DNA has overstepped its bounds, "including: intimidation of judges, defense lawyers, and witnesses; unconstitutional phone tapping; forced confessions; and, unfair judicial processes."
Giuliani calls for an amnesty to be extended "to those who have been prosecuted and convicted through the excesses of the DNA."
"They are paying my fee," Giuliani said, but he would not say how much he was paid or whether the Freeh Group retained him on behalf of a client, according to Politico.eu. He added that his letter "was based on a report I reviewed" by former FBI Director Louis Freeh, who runs a global consulting firm called Freeh Group International Solutions.
Freeh is the lawyer of controversial businessman Puiu Popoviciu, who was sentenced to jail in Romania. Popoviciu, who made a fortune in the real estate sector, was reportedly living in London.