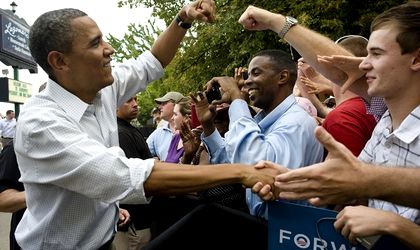 Former U.S. President Barack Obama and former Secretary of State Hillary Clinton were among the targets of suspected package bombs delivered to several high-profile Democrats and CNN, and the FBI said it was investigating as an act of terrorism.
At least eight suspicious parcels were intercepted before reaching any intended recipients, including Obama's attorney general, Eric Holder, former CIA Director John Brennan and prominent Democratic Party donor George Soros.
Two packages were sent to California Congresswoman Maxine Waters, the FBI said. Investigators were trying to track down another suspicious parcel they believe was addressed to Obama's vice president, Joe Biden, a federal official told Reuters late on Wednesday.
None of the eight packages detonated, and nobody was hurt. There was no immediate claim of responsibility.
But news of the bomb threats heightened tension in a nation deeply polarized ahead of elections on November 6 that will decide whether Democrats take control of one or both houses of Congress from Republicans and deny President Donald Trump the majority his party now holds in both.
Some leading Democrats were quick to accuse Trump himself of stoking the potential for political violence by frequently engaging in hyper-partisan rhetoric.
Trump told a political rally in Wisconsin on Wednesday his government would conduct "an aggressive investigation."
The first package, which turned up on Monday, was addressed to Soros, the billionaire financier and frequent target of right-wing conspiracy theories.
An earlier FBI statement said the other packages consisted of a manila envelope with a bubble-wrap interior containing "potentially destructive devices." Each bore a computer-printed address label and six "Forever" postage stamps.
The U.S. Secret Service intercepted packages addressed to Obama at his Washington home and to Clinton, the 2016 Democratic nominee for president, at her home in New York state.
The CNN bureau in New York received a package addressed to Brennan, who has appeared as an on-air CNN analyst, leading police to evacuate the Time Warner building in a busy Manhattan neighborhood near Central Park. It contained an envelope of white powder that experts were analyzing, Police Commissioner James O'Neill said.
The package to Clinton was found late on Tuesday while the one addressed to Obama was recovered early on Wednesday, both during routine off-site mail screenings, the Secret Service said. Obama and Clinton were not at risk, they said.