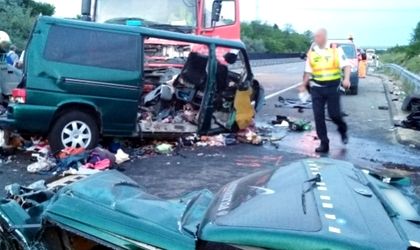 A road accident involving Romanian citizens took place on Tuesday night in Hungary, the Ministry of Foreign Affairs (MAE) reported. Four of the victims are confirmed to be Romanian citizens, while investigations are still pending for the remainder of five. According to reports by local media, the minibus driver crashed into a truck while doing a live streaming on Facebook.
According to information obtained by the mobile consulate team and released by the MAE, the minibus was driving with excessive speed while attempting to overtake another vehicle and crashed into a truck driving on the oposite lane.
The accident took place 60 kilometers away from Hungarian capital Budapest while the bus was driving towards Romania.