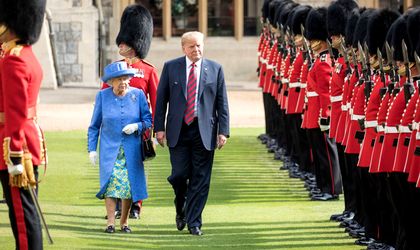 Donald Trump and his wife Melania landed on London's Stansted Airport on Monday morning for an official three-day state visit, as tens of thousands of protesters are preparing to demonstrate against the US president, The Guardian reports.
The Trumps were greeted at the airport by UK foreign secretary Jeremy Hunt, who has entered the race to become the next Conservative leader and prime minister after Theresa May announced her resignation.
Before he travelled to the UK, Trump praised former foreign secretary Boris Johnson, who is also a contender for Tory leadership, as well as Brexit Party leader Nigel Farage, whose party won the recent European elections. While on Air Force One, the US president also attacked London mayor Sadiq Khan on Twitter, one of his biggest critics in the UK, and called him a "stone cold loser".
….Kahn reminds me very much of our very dumb and incompetent Mayor of NYC, de Blasio, who has also done a terrible job – only half his height. In any event, I look forward to being a great friend to the United Kingdom, and am looking very much forward to my visit. Landing now!

— Donald J. Trump (@realDonaldTrump) June 3, 2019
On Sunday, Khan described Trump as "one of the most egregious examples of a growing global threat" and compared the language he has used to that of the "fascists of the 20th century".
Trump had earlier advised the UK to opt for a no-deal Brexit if the EU doesn't offer a favourable deal. He also suggested that the US would offer Britain a trade deal, saying that his administration would "work on it very, very quickly."
"As you know, they want to do trade with the United States, and I think there's an opportunity for a very big trade deal at some point in the near future. And we'll see how that works out," Trump stated.
The Trumps will go to Buckingham Palace for a reception with the Queen, the Prince of Wales and the Duchess of Cornwall.
This is Trump's second visit to the UK – in July 2018 he met the Queen at Windsor castle then headed for Scotland, but it was not considered an official state visit. Large protests took place at the time in London, when the famous giant "Trump baby" blimp was flown for the first time. The blimp is expected to also make an appearance in the protests planned for Tuesday.