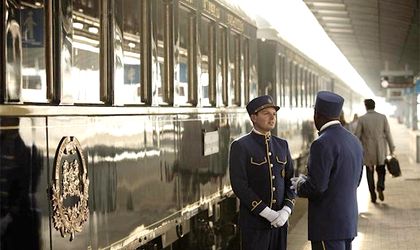 The locomotive of state-owned CFR, which was carrying the luxury train Orient Express after it entered Romania, broke down and the operator had to bring a replacement so that the train could travel safely to Bucharest.
The Orient Express reached Bucharest on Monday, around 7 PM, although its arrival was scheduled two hours earlier, according to CFR representatives cited by Economica.net. The representatives added that the passengers were not in danger at any moment. The locomotive broke down in Vanatori station (Mures county) and the replacement unit traveled from Brasov.
Meanwhile, the Orient Express departed from Bucharest on Tuesday with planned stops in Bulgaria and Turkey (Istanbul).
Railtour operator Belmond handles the Orient Express journey.
"Take the classic route from London to Venice, the gateway to the Orient. This breathtaking journey through rural French farmlands and Swiss Alpine valleys can be traveled in either direction, or both. Go further afield with Paris to Istanbul, an authentic adventure over six days to the edge of Europe. Delve into culture with stops in Budapest and Bucharest before arriving in soulful Istanbul," says a presentation of the tour.
In 2012, the Orient Express recorded another incident in Romania. At that time, the train left Sighisoara station with three broken windows.