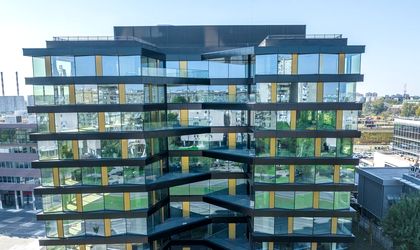 Belgrade panorama is greater for is enriched with another impressive building – GTC X is forever elevating the standards of commercial construction in Serbia.
GTC X is the newest building of the GTC Group, one of the leading developers and investors in commercial real estate in Central, Eastern and Southern Europe, present in Serbia for the past 20 years. GTC has developed 140.000 sq m premium class office and 35.000 sq m retail space.
GTC X brings to the market 17,700 sq m of first-class office space in Block 41, located along Milutin Milanković Boulevard in New Belgrade. GTC Group is at the forefront of the commercial real estate sector in Central, Eastern and Southern Europe since 1994.
To mark this special occasion, Mr Zoltán Fekete, President of the GTC Management Board came to Serbia and shared his excitement about the newest projects and further plans in Serbia:
"GTC X is not just an exceptional building but also a major milestone in the history of our company, and – loud and clear – a demonstration of our commitment to the Serbian market. GTC X is not only a landmark that defines an entire district in the Serbian capital, but also a true representation of our mission to create outstanding value for our clients on the principles of sustainable development" – he said.
—
"GTC delivers modern and sustainable buildings, equipped with the latest technology, powered by renewable energy, adhering to sustainability criteria defined by the highest industry standards. We strive to create buildings that promote human interaction and cooperation and, eventually, make our tenants successful and productive", Fekete added.
On behalf of Chamber of Commerce and industry of Serbia, Žarko Malinović, emphasized the importance of GTC presence in Serbia:
"In the last 2 decades, GTC has distinguished itself in our market not only as one of the most important investors in the construction of commercial buildings, but in the architecture of office buildings as well. I am glad that all the highest principles of sustainable development and energy efficiency are respected in all GTC buildings. By investing in such projects, we have learnt that the business community is growing in Serbia, and that it has a need for such innovative and inspiring business premises, which, in turn, has a positive impact on our economy", Malinović emphasized.
In the past 20 years, GTC has implemented numerous projects in Serbia, and its buildings have become a symbol of Belgrade's Silicon Valley.
Like all previous GTC Group projects, GTC X was designed and built in accordance with the green standards of the LEED Gold certificate, which guarantees maximum energy efficiency and the state-of-the-art technology.
Companies which have already found their place in GTC X, recognizing GTC as a reliable partner for the growth and development of their businesses and new ideas are the most successful Serbian IT companies HTEC Group and Tenderly, international audit, tax and advisory firm Mazars, world known digital expert Webhelp and Take a Break restaurant.