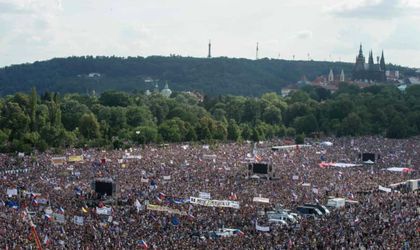 The Czech Republic is experiencing the largest protests since the fall of communism three decades ago, with about 250,000 people in the streets demanding the resignation of prime minister Andrej Babis, who has been accused of having committed fraud with EU funds through his company, Agerpres reports.
Protests against Babis have been going on for several weeks, as the billionaire PM has been involved in several investigations regarding fraud and conflict of interest, but he continues to reject a possible resignation.
Furthermore, Babis raised even more suspicion by naming a new justice minister shortly after police called for his indictment in April.
Sunday's protest was organized by a student-founded civic group called Millions of Moments for Democracy, and no politician was invited to speak.
Preliminary results from a European Commission audit cited by the Czech press showed that the EU could ask companies connected to Babis to return EUR 17.4 million and that the Czech PM was in a conflict of interests as the beneficiary of the fund to which he transferred the management of his holding, estimated to be worth EUR 3.7 billion.
Photo: Michal Cizek / AFP