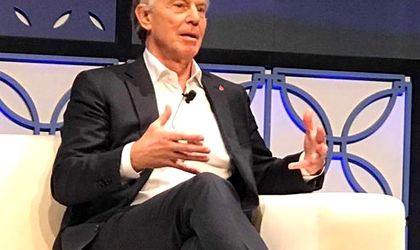 Former UK Prime Minister Tony Blair said during a speech held at the WebSummit in Lisbon that he will do "everything he can" to stop Brexit. Blair, who also led the center-left Labour Party for 13 years, claimed Brexit would be either painful or pointless, and he thinks it can still be stopped.
Britain is due to leave the European Union in March 2019, although negotiators have so far failed to agree to all the terms of the withdrawal.
Blair declared his commitment to stop this exit during the WebSummit: "Up to the very end, I am going to do everything I possibly can to stop it."
First, Blair claimed that UK Prime Minister Theresa May's deal is going to lead to a parliamentary defeat and that would trigger either a General Election, a fresh Brexit referendum, or a "no deal" where the UK crashes out of the EU and reverts to WTO rules for trade. Dismissing the last option, Blair then claimed the ruling Conservative Party would be "suicidal" to go to the polls. "Let's assume they're not, they won't want an election. No deal is obviously absurd. I think at least we should have the chance to go back to the people," he said.
When asked if having another vote was therefore undemocratic, Blair said it wasn't because the electorate's knowledge of what Brexit means has been "hugely enlarged" since the first referendum. My view is very simple — before we go down the path of pointless or painful, ask the question again of the British people. In these circumstances, do you really want to proceed?" he said.