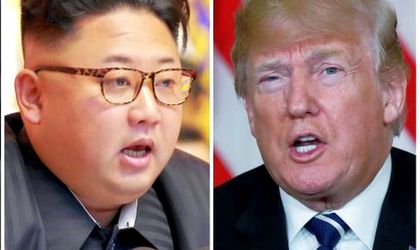 North Korea said it was surprised by President Donald Trump's decision to cancel a June 12 summit with Kim Jong Un and it remains willing to meet with the U.S. at any time, according to Bloomberg.
Vice Foreign Minister Kim Kye Gwan said Friday that his country still wants to pursue peace and said it would give Washington more time to reconsider talks. He added that North Korea "inwardly highly appreciated" Trump for agreeing to the summit, and hoped the "Trump formula" would help lead to a deal between the adversaries.
"The first meeting would not solve all, but solving even one at a time in a phased way would make the relations get better rather than making them get worse," Kim said in a statement carried Friday by the state-run Korean Central News Agency. "We would like to make known to the U.S. side once again that we have the intent to sit with the U.S. side to solve problem regardless of ways at any time."
The statement appeared designed to get the summit back on track after Trump abruptly canceled the Singapore meeting, citing "tremendous anger and open hostility" in recent statements from Pyongyang. Asian stocks pared opening losses after the olive branch from North Korea as investors weighed the likelihood of a return to missile tests and military threats that raised tensions last year.
"We will likely see, at best, tensions rise," said Mintaro Oba, a former U.S. State Department official who worked on North Korean issues. "At worst, we will see renewed discussion in Washington of military options."
Trump said he had spoken with Defense Secretary Jim Mattis and the leaders of South Korea and Japan. He called the collapse of his planned summit with Kim "a tremendous setback for North Korea and indeed a setback for the world," adding that the U.S. military is ready if necessary in the event of a conflict on the Korean Peninsula.
The U.S. president also held out hope that he and Kim could meet in the future: "Nobody should be anxious. We have to get it right," he said. Secretary of State Mike Pompeo said there were "a lot of dial tones" as the U.S. sought to work out logistics with North Korea to hold the summit.
South Korean President Moon Jae-In said that peace on the peninsula shouldn't be abandoned and suggested that Trump and Kim hurt chances for a successful summit by speaking to each other through statements, tweets and spokespeople.
"It's hard to resolve the diplomatic issue, which is both difficult and sensitive, with the current way of communication," Moon said in a statement. "I wish the leaders would have a more direct and closer conversation to deal with it.
Japanese Chief Cabinet Secretary Yoshihide Suga said that making progress on nuclear, missile and abductee issues is more important than holding a summit. China wasn't surprised by the collapse of the summit given recent signals that had come from Trump, said a government official who asked not to be identified commenting on the matter.