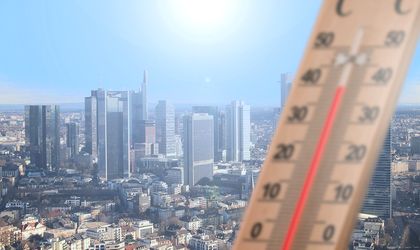 Europe is in the midst of a heatwave the likes of which it has never seen before, with its biggest cities, which are usually popular city break destinations at this time of year, turning into giant microwave ovens.
Madrid or Paris will see 40 degrees Celsius on Friday, while Berlin temperatures will reach about 37 degrees. According to meteorologists, another 10 degrees can easily be added to these figures in order to reflect the temperatures people really feel while walking through the sun at midday. Residents have been advised to keep hydrated and check on the elderly and vulnerable as they wait out the heatwave.
Authorities from countries across Europe have issued hot weather warnings, as temperatures are predicted to pass 40 Celsius in many areas.
The BBC writes that hundreds of firefighters are battling wildfires in Spain's Catalonia region, as temperatures soared above 40 degrees Celsius. Germany, France, Poland and the Czech Republic have all recorded their highest-ever June temperatures.
France could break its all-time record on Friday. 44.1C was recorded in the Gard region. France already recorded its first deaths on the southern beaches where three people died, according to the regional French newspaper Midi Libre, which reported that the people died of cold shock after jumping into cold water to escape the heat.
Temperatures are expected to top 40C in Italy too, particularly in central and northern regions. Several cities like Turin, Milan or Rome have issued the highest levels of heat warnings.
The Czech Hydro-Meteorological Institute said the temperature reached 38.5 Celsius (101.3 F) in Doksany — a Czech Republic high for the month. New daily records were set at some 80 percent of local measuring stations.
The transport ministry in Germany's eastern Saxony-Anhalt state imposed speed limits of 100 kph or 120 kph on several short stretches of highway until further notice.
According to Probe Around The Globe, health organizations advise avoiding the outdoors between 11 am and 3 pm, as this is when the sun shines fiercest, but in large urban areas like Paris and Rome, temperatures are actually higher around 5-6 pm. Splash water on your face or put your feet into a bucket of cold water. Your neck, wrists, and ankles are body parts that distribute the coolness the quickest. If you feel overheated, drain a bandana or scarf in water and wrap it around your neck.