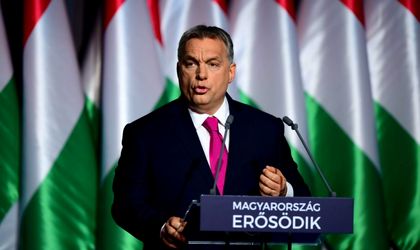 The European Parliament denounced the endangering of democratic values ​​by Hungary and urged the European Commission to react by launching the so-called Article 7 procedure, and voted for adopting the report.
This procedure was launched by the European Commission against Poland in December last year.
With 448 votes in favor, 197 against and 48 abstentions, MEPs adopted the report prepared by Ecologist MEP Judith Sargentini, this being the first time that the EU co-legislator calls for the activation of the so-called Article 7 (Treaty of Lisbon) of a Member State of the European Union.
The Sargentini report details a long list of 'concerns' regarding violations of EU freedoms and values ​​in the press, universities, minorities, migrants, and corruption and the independence of the judiciary.
In a debate on the situation in Hungary and held on Tuesday in the EP plenary, Hungarian Prime Minister Viktor Orban stressed that the Sargentini report "insults Hungary and insults the Honor of the Hungarian nation."
"You say no more than the Hungarian people can not decide for themselves what is in their own interest. Do you think you know better what the Hungarian people want," Orban said, explaining that Hungarian decisions are taken by voters in the legislative elections.
Moreover, the Hungarian prime minister denounced the Sargentini report using double standards, constitutes a "power abuse" and its approval is in breach of the EU's basic treaty. He admitted that Budapest has "radically" different views on migration, but assured that his government would never "go so far as to silence those who disagree."
"Hungary will not give in to blackmail," the Hungarian prime minister insisted, "but will defend the European borders and European values ​​of democracy." "Even you, if necessary," Viktor Orban told MEPs.