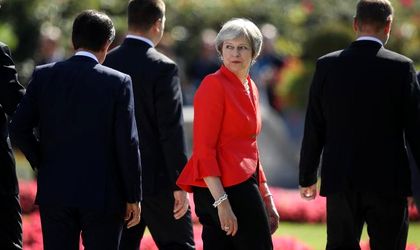 UK prime minister Theresa May had a difficult time at the end of the informal Salzburg summit, when EU leaders unexpectedly said that her Brexit proposals were not good enough, the Guardian reports.
European Council president Donald Tusk said May's Chequers plan, which had already caused controversy for her at home, "will not work", throwing the British PM on the defensive just a week before a Conservative Party conference.
May was set an October deadline for a solution on the Irish border issue just hours after telling Ireland's Leo Varadkar that she felt it would be impossible to come to a compromise within such a short timescale.
The UK PM was clearly angry after the summit and told reporters that EU leaders were engaging in "negotiating tactics" designed to throw her off course.
The ambush by EU leaders, led by Donald Tusk and French president Macron, came after a meeting that was held in May's absence. Macron even accused British Brexit supporters of lying about how easy it would be to negotiate a favourable exit from the EU.
"Those who explain that we can easily live without Europe, that everything is going to be alright, and that it's going to bring a lot of money home are liars," said Macron. "It's even more true since they left the day after so as not to have to deal with it."
Chequers proposes the UK shares a common rulebook for goods and services after Brexit in an attempt to prevent a return of customs checks for goods crossing the Irish border. But the EU leaders believe it will undermine the single market by giving British companies a competitive advantage and pose a threat to the "European project".