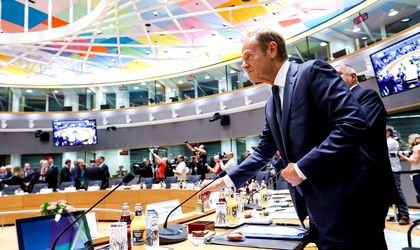 European Union leaders agreed during a meeting of the EU Council to set up joint asylum processing sites and restrict migrants' moves with the bloc.
Reuters points out that this solution is designed to respond to concerns from Rome and Berlin.
"On EU territory, those who are saved, according to international law, should be taken charge of, on the basis of a shared effort, through the transfer in controlled centres set up in Member States, only on a voluntary basis, where rapid and secure processing would allow, with full EU support, to distinguish between irregular migrants, who will be returned, and those in need of international protection, for whom the principle of solidarity would apply. All the measures in the context of these controlled centres, including relocation and resettlement, will be on a voluntary basis, without prejudice to the Dublin reform," according to the conclusions of the meeting.
The EU leaders also agreed to launch of the second tranche of the Facility for Refugees in Turkey and at the same time to transfer EUR 500 million from the 11th EDF reserve to the EU Trust Fund for Africa.
Another conclusion of the meeting was that the much progress has been achieved for the new Common European Asylum System.