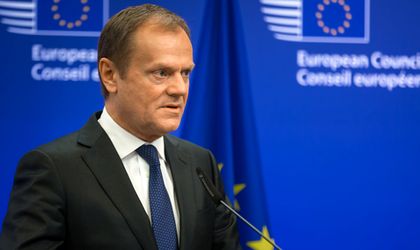 European Council president Donald Tusk said he has "no grounds for optimism" on whether the Irish border issue would be resolved at Wednesday's EU summit, and urged Theresa May to come up with "concrete proposals" to break the "impasse", the BBC reports.
The "backstop" is a fall back plan for avoiding a hard border in Ireland if the two sides can't strike a trade deal in time – but they can't agree on how long it should last and what form it should take.
Theresa May is not expected to come up with any new proposals this week, as her government says she has already put forward a "workable solution".
At a conference in Brussels, Tusk said: "For a breakthrough to take place besides goodwill we need new facts." He added that May should present "something creative enough" to break the deadlock in negotiations.
Tusk said that EU leaders would start preparing for the possibility of a no-deal Brexit, but that they would also continue to make every effort to reach an agreement.
Both sides were hoping that a Brexit deal, including the Irish border question, would be agreed by mid-November in time for it to be ratified by EU members and for MPs at Westminster to vote on it.
The prime minister told a cabinet meeting on Tuesday morning she could not agree to any deal with the EU which created a new border between Northern Ireland and the rest of the UK – or one which locked the UK into a customs union with the EU indefinitely.