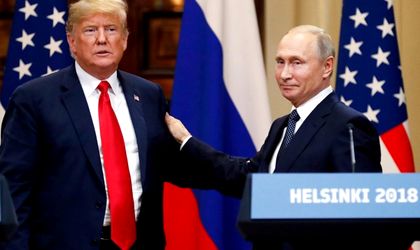 The United States Permanent Representative to NATO, Amb. Kay Bailey Hutchison, warned Tuesday that the US could "take out" Russian missiles that are perceived to be in violation of the Intermediate-Range Nuclear Forces Treaty should Moscow continue to violate the agreement, according to CNN.

"We have been trying to send a message to Russia for several years that we know they are violating the treaty. We have shown Russia the evidence that we have, that they are violating the treaty," Hutchinson said according to a
US NATO mission transcript
of a press conference on the sidelines of the NATO Defense Ministerial meeting in Brussels.
"They are building a medium-range ballistic missile in violation of the INF. That is a fact which we have proven," she added.
Asked what type of countermeasures the US and NATO would pursue in the face of the Russian violation, Hutchinson said "the countermeasures would be to take out the missiles that are in development by Russia in violation of the treaty."
"Getting them to withdraw would be our choice, of course. But I think the question was what would you do if this continues to a point where we know that they are capable of delivering. And at that point we would then be looking at a capability to take out a missile that could hit any of our countries in Europe and hit America in Alaska," she added.
Asked by CNN to comment on Hutchison's statement, Kremlin spokesman Dmitry Peskov said the Kremlin "prefers not to pay extra attention to statements by ambassadors while we have too many uncertainties with the messages on the higher level."
The 1987 treaty limits the types of missiles that the US and Russia can deploy.