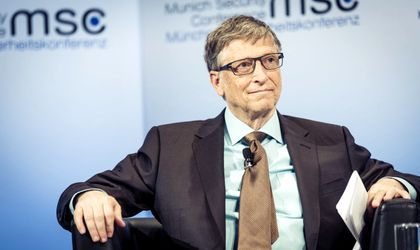 Microsoft co-founder Bill Gates believes that toilets are a serious business and bets that reinventing these basic sanitary facilities could save half a million lives and save more than USD 200 billion globally, according to Bloomberg.
The billionaire philanthropist, whose Bill & Melinda Gates Foundation spent 200 million dollars in the past seven years to finance sanitary research, presented at an specialized event in Beijing 20 new toilets and wastewater treatment plants designed to eliminate harmful pathogens and convert manure into clean water and fertilizer.
"The technologies you see here are the biggest advances in sanitary facilities over the past 200 years," said Bill Gates at the Reinvented Toilet Expo, in Beijing. Gates explained to the participants that a new approach to the sterilization of human waste could avoid the deaths of about 500,000 children and save USD 233 billion as a result of avoiding the costs associated with diarrhea, cholera and other illnesses caused by unsatisfactory water quality, sanitary facilities and hygiene.
Without low-cost alternatives to sewerage and manure-processing facilities, urbanization and population growth will create new problems. In some cities, more than half of mankind gets into the environment without being treated. According to the World Health Organization, every dollar invested in sanitary facilities generates global economic benefits of about USD 5.50.
"Human waste that is properly managed can be an economically attractive investment because of the health benefits. Since 2.3 billion people do not yet have basic sanitary facilities, there is a substantial potential market that can be conquered," said the counselor Unicef, Guy Hutton.
Bill Gates, in turn, estimates that the re-branded toilets market could generate annual sales of six billion dollars a year in 2030.
Companies presenting new sanitary technologies at the Reinvented Toilet Expo include Japan's LIXIL Group, Chinese Clear Companies, CRRC Corp. and EcoSan, Sedron Technologies LLC in the US, SCG Chemicals in Thailand and Eram Scientific Solutions Pvt, Ankur Scientific Energy Technologies Pvt and Tide Technocrats Pvt in India.
Bill & Melinda Gates Foundation estimates that the first requests for reinvented toilets will come from schools, housing blocks and common sanitation facilities. As the adoption of these multiple toilets will increase and costs will decline, a new category of reinvented toilets will be available for individual households.