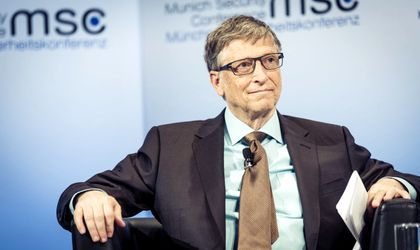 Bill Gates, Federica Mogherini, MEPs, experts from leading European development think tanks and other participants discussed on Wednesday about the challenges to multilateral cooperation and the EU's role in achieving sustainable development in its social, economic and environmental aspects, in the European Parliament's Development Commission.
Bill Gates, Microsoft founder:
– Europe underestimates the importance of its work in developing countries. Some background of how we see developing countries: In 1990, 36 percent of the global population lived in extreme poverty. Now it's less than 10 percent.
-In 1990, 11 million children were dying, now it's only 5 million. It's an amazing thing. There is a direct connection between the progress made in the world and development generosity. EU does 56 percent of global aid. It's the world's fourth largest donor, with EUR 16.5 billion in development assistance investments.
-I get to go out and see how the money is used, particularly in health sector. Great vaccines got to developing countries. Another case of progress is polio eradication. We are down below 56 cases in the world. We are close to getting to zero.
-Where do we go in the future? I am optimistic that people will stay generous and bring innovation to reducing poverty and improving health. But I am worried about the demographic of births. Worldwide there are 41 million births per year right now. The births outside sub-Saharan Africa have decreased to 25 percent, from 50 percent over the century. This shows that by 2050 over 90 percent of the people in extreme poverty will live in Saharan Africa.
– If we look towards 2040, it's not just Africa, but the poorest parts of Africa- Nigeria, Republic of Congo, who will have 40 percent of their people in extreme poverty, at a population of 600.000 people. Just these two will have a bigger population than the entire European Union. If we invest in human capital, that can be an asset for Africa, but the question is if we take the lessons from Asia (China) and India and apply them in Africa. If we stay strong we can get their economy to a great level. But if we don't make the investments we will fall back.
– I will talk a bit about innovation. There is a change in how vaccines are made. Some companies are working making vaccines faster, in case of an emergency.
– It's ironic that richer countries are responsible for climate change. But they are not the ones that will suffer. The dramatic impact will be on the poor in the Ecuador Region, specially Africa, who did nothing to create the problem.
– Some people don't think climate change is a problem. That hurts a lot. We need reliable energy, the way we heat buildings has to change, the industrial economy, transport has to change also. Even as an optimist about innovation, I think we'd better get going. There is an action taking place. Whether it's going fast enough… we will have suffering, even in the 2 degree scenario, that will be very hard to achieve. But there will be suffering. It's the West and the middle income countries, especially China, who have to make the changes in order to pollute less. Will we collectively do the right thing? There are two problems that need global actions are climate change and pandemics. Countries have to work together. These are the most important problems of the day.
-Tax systems can be more progressive. Digital technology is a blessing. Yes it comes with challenges. It' s an incredible tool for improving the quality of governance specially in Africa.