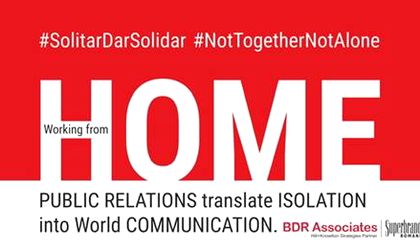 Public Relations have the power to turn isolation into communication. Therefore, BDR Associates set up the #SolitarDarSolidar platform, to engage all professionals from communication and all other industry fields that are now working from home, in an effort to constantly support customers and business partners during the global Covid-19 crisis.
The initiative is rooted in the intention to bring together Romanian and international professionals that are forced to work from home these days, in an inspirational and motivating endeavor to ensure operational continuity and keep the creative and innovative spirit, thus transforming isolation into a communication opportunity.
All those willing to join BDR Associates campaign are encouraged to use social networks like Facebook and LinkedIn, as well as the hashtags #SolitarDarSolidar and #NotTogetherNotAlone to express positive personal experiences, creative ideas and practical examples or to share images and videos with empowering messages, that reflect balance and trust in a brighter future.
"Confidence, trust and balance are mindsets that we find more difficult to access during these days, when sudden changes test our capacity to adapt and react to a situation that we never experienced before. It is a challenge that not only asks for medical solutions to address the pandemics or support the economy and the business environment, but it also asks for solutions to support our mental health, as it is the case for many of the people now isolated at home. I believe it's us, the communication professionals that have the moral duty to transform this crisis into an opportunity, to ensure clients and business partners that we are and we will continue to be the same exceptional people making things happen even when it is tough and wherever we are. Each contribution matters and may have a positive echo, so I invite you all to say #SolitaryButSolidary, #NotTogetherNotAlone. It is now the time to act and contribute," explained Cătălina Rousseau, CEO of BDR Associates, the thinking behind the initiative.
Founded in 1995, strategic communication and public relations agency BDR Associates is exclusive partner to Romania of Hill + Knowlton Strategies in Romania, part of WPP Group, one of the largest international communication groups in the world. Starting 2002, BDR Associates expanded its activity in other markets, by opening the first communication agency in the Republic of Moldova. BDR Associates provides strategic communication, public affairs and crisis management, specialized trainings, corporate communication, branding, events, creative development, digital PR, EU projects, specialized monitoring and sector analysis, as well as other services in benefit of multinational or entrepreneurial companies, international or non-governmental institutions and other types of clients, building strategic partnerships with various consulting companies in Europe and other areas, thus becoming a leading agency of the regional communication market.