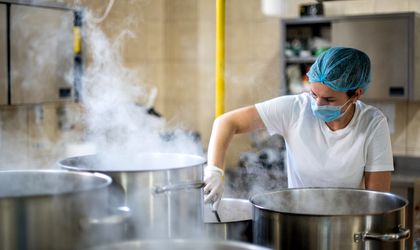 Adi Hădean association is announcing the expansion of #SolidarSocial project as well as the opening of a new humanitarian canteen in Constanța. The canteen will supply daily 120 of those in need  from two cities, namely Albești and Negru Vodă. The whole event will take place at the Apus de Soare restaurant inside the Scandinavia Hotel, starting Monday the 8th of March.
"We are getting closer to the one year milestone of our Solidar Social project and I am more than happy that we can extend a helping hand and let good prevail in our quest of helping the less fortunate. Our objective in the city of Constanța is to have prepared 120 warm meals daily for the less fortunate, people who otherwise would not have access to anything of sorts. With the participation of our benefactors, the constant support offered by sponsors and donors and along with the incredible contribution of those in the team, we can make possible this whole social paradigm", said chef Adi Hădean.
As its main sponsors, the humanitarian project has Macromex, leader in the industry of frozen products and Apus de Soare restaurant, which has provided its kitchen facilities and equipment as well as the staff. With the support of our sponsors we can now deliver more than one hundred warm meals a day to those in need which, otherwise it would have not been possible.
This new approach made by the team and led by Adi Hădean, aimed at people in need of help, is an additional opportunity for Macromex to lend them a helping hand, to support their efforts and energy with products that will later turn into warm meals. After a difficult year for all of us, we are delighted to see that the solidarity and good will from the beginning of this whole pandemic has remained just as strong.
Solidar Social is a humanitarian project initiated by Adi Hădean & Co at the beginning of the pandemic. The movement is supported through volunteering and donations. From the 1st of April 2020 to date, Adi Hădean &Co has delivered close to 200.000 portions for less fortunate Romanians. More about the project and how you can contribute can be found at: http://activsocial.adihadean.ro