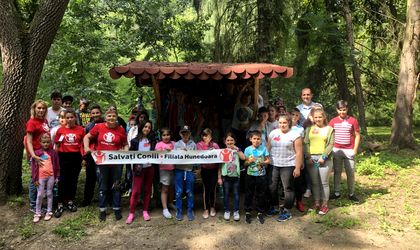 In 6 months of activity, Chef Adi Hădean's team delivered almost 120,000 portions of warm meal in Bucharest, together with the General Directorate of Social Assistance and Child Protection Sector 6, and starting with the end of October, the action reaches Petrila,  Hunedoara county, through the partnership with Save the Children Romania
The humanitarian campaign reached an impressive number of portions of warm meal, with the help of over 200 volunteers, over 60 sponsors and over 60 donors. The team cooked over 120 tons of food and traveled more than 14,000 kilometers delivering food to vulnerable people in the fight against the new Coronavirus.
"We will continue as long as our strength, our pots and resources hold us. There is an acute need for warm meals among families, among children who have no support. That's why we decided to turn our attention to the little ones. " – Chef Adi Hădean.
A new step forward was made in October, when Adi Hădean Association concluded a partnership with  Save the Children Romania, so that ''Solidar Social'' supports with food another 100 children in the Day Center from Petrila City, Hunedoara County. The risk of poverty and social exclusion, significantly higher in Romania for children (38.1%) than for adults (32.5%), according to Eurostat data, has become major and with vital repercussions, especially in the context of the pandemic. The two organizations have joined forces to combat the effects of the crisis caused by the new Coronavirus for this group of children.
"We find ourselves difficult times, when we have to protect vulnerable social groups. The restrictions imposed by the pandemic have generated chain consequences for them, including difficult access to social services, medical, education. Chef Adi Hădean's team is not on the sidelines, and provide help to the children from Petrila, so that they feel that they are not alone in this difficult social context. " Gabriela Alexandrescu, Executive President Save the Children Romania.
During this period, Save the Children Romania has intensified its efforts to support and protect vulnerable children (children from families with socio-economic difficulties, children whose parents are working abroad, refugee children or asylum seekers) and to collaborate closely with local authorities (town halls, school inspectorates, schools) to identify the best solutions.
The expansion of the project was possible with the help of the main partners, who will support the project until the end of this year: Macromex, through the Edenia brand, Nordic Foods and PepsiCO.
''Social Solidar'' activity will also be carried out on the basis of the donations received, of the volunteers who offer to lend a helping hand and of the donors, of the individuals who make donations on behalf of the Adi Hădean Association.
''Solidar Social'' project has reached international levels, being noticed by the organization Social Gastronomy Movement, a foundation with projects at a global level that encourages social change through the power of a hot meal. On October 16, ''Solidar Social'' team contributed to the World Food Day initiated by the Social Gastronomy Movement, where it cooked simultaneously with 18 other countries in the world. Together they delivered 70,000 servings of warm meals. On October 19, Adi Hadean spoke to the entire community, in a live video on Instagram, about ''Social Solidar'' project, about its origins, challenges and plans. The project was highly appreciated, being distributed on all channels of the world organization.
How you can help:
Come and volunteer
If you are a qualified chef and the restaurant you worked for is closed during this period, come join us. If you have a Category B driving license and you want to help with the food delivery, come join us. Contact us at ajut@activsocial.ro and you will receive all the information you need.
Donate food
If you are a food producer or distributor, you can contribute by donating whatever you have. We will turn into tasty food any ingredients made available to us.
Donate materials
There is a lot of need. From disposable casseroles to disinfectants and personal protective equipment. Help where you can!
Donate money
Any help is welcomed:
Asociația Adi Hădean
RO35BTRLRONCRT0283039401
Banca Transilvania