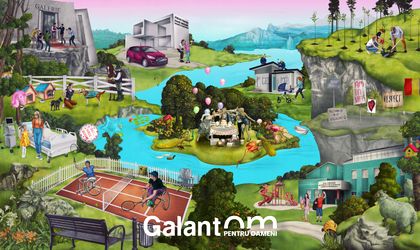 Every year we celebrate our birthdays with family and friends, and the well wishes make the phones buzz from morning until night. It's a special day that fills us with positive energy and shows us, by reviewing all the experiences we've had throughout the year, how lucky we are. What if we could together convert all this positive energy into fuel to start fundraising campaigns for the social causes we believe in?
The Galantom platform launches a social engagement challenge with the #cuunanmaibun campaign. With the help of the Give Your Birthday tool, birthdays take on a new meaning and easily become fundraising opportunities for social causes.
In 2020, when life as we knew it suddenly changed, Galantom launched the campaign #ziuatarescriepovestea, along with an animated mural by artist-illustrator Raluca Băraru, presenting the main areas in which the NGOs present on the platform work and the less beautiful side of the world. An invitation was then launched to Romanians to offer their birthdays and to contribute through donations to change for the better the negative news that hit us from all sides.
This year came with new challenges, but all these experiences continued to keep us close and attentive to the needs of others. The initiators of the Galantom platform are marking this phenomenon of solidarity and generosity with #cuunanmaibun campaign, so Raluca Băraru was inspired by the good deeds done through the Give Your Birthday tool and recreated the 2020 fresco on a positive note. The new fresco reproduces the powerful impact of all the days people give to social causes on the platform.
How have the good deeds of the last 2 years translated into figures?
In total, from January 2020 to date, 6,453,181 lei have been raised through the Give Your Birthday tool. The amounts donated with the help of fundraisers who made their day an occasion for solidarity went to 291 NGOs. Among the organizations were Asociația Zi de Bine, Fundația Filantropica Metropolis, Fundația HOSPICE Casa Speranței, Organizația Salvați Copiii, Asociația Magic, Totul este posibil, Hope and Home for Children, Inima Copiilor or Ajungem Mari.
Top domains on the platform and amounts raised:
Health: 2,510,557 lei
Education: 1,477,708 lei
Human rights and social inclusion: 649,775 lei
Humanitarian aid: 565,463 lei
Community and society: 456,340 lei
Children and Youth: 447,769 lei
Animal protection: 150,477 lei
"The sum of 341,582 lei came to be materialized in the form of cherishing moments and lives lived with dignity when cruel diagnoses tempt destinies. This amount allowed us to provide: 183 days of hospitalization in the organization's bedded units, 300 visits to patients' homes and 655 interventions in the polyclinic", say the representatives of the HOSPICE Casa Speranței Foundation.
Ajungem Mari also used the amount raised from donations, 234,281 lei, for vocational courses, vocational counselling and outings. Ajungem Mari said that "the money raised were mostly used for therapy, i.e. 125,000 lei. This translates into 1,135 therapy sessions for 45 children in the centers who benefited from them for 6 months".
For 32 projects of the Zi de Bine association 524,000 lei were raised on Galantom with the help of over 600 people who, on their birthday, launched fundraising campaigns and asked for donations instead of gifts from friends. The projects were supported by 4,500 generous people who donated money to the association's projects.
"The pandemic context has shown us how united we can be in critical moments and that generosity is at its best when we are aware of others, when we know how much the little we can give means to those in need. We believe that of all the tools available on Galantom, Give Your Birthday is the one that best harnesses this natural inclination of ours to give and is the one that continues to inspire through the power of example. We're confident that we can end the year with an overwhelming number of donations, so we're taking the country by storm to inspire generous people to put their birthday to good use," says Andrei Chirtoc, one of the founding members of the project.
This year Galantom continues to call on generous people everywhere to mark their birthdays with a fundraising campaign designed to bring a little joy into the lives of people whose fate depends on others.
You too can join the community of good people and give your birthday as a gift. Here's what to do, it's simple:
Go to the website ziuata.galantom.ro and see the positive impact that Romanians have made in recent years for various social causes through the Give Your Birthday tool.
Select the cause you want to support and offer your birthday. You can choose from the projects of organizations that are already on the platform or you can propose a new organization.
Create a donation page in just a few minutes by filling in a few details: date of birth, contact details, page title and the amount you want to raise. You will then be able to personalize your page with your photo and a motivational text.
Spread the good news. Promote your donation page online, as if it were an invitation to your online party. Encourage your friends to join you and, instead of gifts, donate to the cause you support.
On Galantom.ro there are several ways for good people to fundraise for the causes they believe in: sports challenges, offering birthdays or other special days such as weddings or christenings, but also a passion or a talent and many others that can be found here.